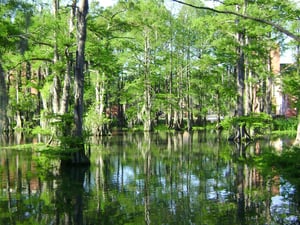 BELLE CHASSE, La. (CN) — Louisiana's expected share of offshore oil and gas royalties, earmarked for urgently needed coastal restoration projects, has been cut in half, and President Trump wants to kill it altogether, a state official said Wednesday.
This is "not good news," Chip Kline, chairman of the Coastal Protection and Restoration Authority said during the meeting in Plaquemines Parish.
The state board holds monthly meetings to discuss and keep the public up to date on progress on the Coastal Master Plan, which to date has spent nearly $1.2 billion in ongoing and completed projects.
The bipartisan plan to save the Louisiana coast was created by the authority and is published in a 184-page document, "Louisiana's Comprehensive Master Plan for a Sustainable Coast," which took effect in June after 10 years in the works.
Coastal restoration and land loss mitigation in Louisiana is a serious undertaking with a narrow timeframe to save what remains of the coast. Louisiana loses roughly a football field of land every 100 minutes: 18 acres a day. An acre is about the size of a football field.
Put another way, in 50 years, if nothing changes, 42 percent of today's coastal land will be gone, according to the authority' estimates.
Johnny Bradberry, the governor's executive assistant for coastal activities, called it "a scary situation" during a September community meeting on coastal restoration funding.
Coastal restoration was severely underfunded even before the news arrived Wednesday about the 50 percent slash in the anticipated $140 million funding from the Gulf of Mexico Security Act, or GOMESA.
GOMESA was enacted in 2006 — 2019 is the first year that substantial funds were expected. Money from the act is the only recurring revenue set aside specifically to help rebuild Louisiana's coast. It was created to help Gulf Coast states recover from damage caused by offshore oil and gas production, which has contributed significantly to coastal destruction.
By a 2015 estimate, canals and pipelines for the oil and gas industry were responsible for at least 36 percent of the wetlands lost in the past century. A 2006 study conducted by the Louisiana Department of Natural Resources concluded that 76 percent of overall land loss in Terrebonne Parish is the result of oil and gas canals.
Under GOMESA, 37.5 percent of federal royalties from oil and gas production are to be returned to specified areas along the Gulf Coast, and most of those funds are meant to reconstruct the coast directly.
In 2015, Louisiana estimated that it would receive roughly $175 million in GOMESA funds in fiscal year 2019, which begins in July 2018. But federal officials have steadily reduced the estimate.
Kline said his staff received the adjusted royalty figure from the Department of the Interior last week.
"The federal Department of the Interior has informed us we will probably get only about half of the maximum," Kline said. So that would be roughly $60-$70 million. "The department did not provide an explanation on the significant reduction in revenue."
He said the authority won't know the precise amount Louisiana will get until November or December.
"We're trying to get a handle on what is the justification of that figure," he said, adding that the board will have to "take a hard look" at its projects to see which can be scaled back or cut.
GOMESA is "a funding stream we have anticipated for a very long time," Kline said. "And it is a funding stream we have largely planned our efforts around."
This is not the first time the state has faced cuts to its funding under the program. In 2015, the Obama administration wanted to reduce the Gulf Coast's funding under the act, but Congress did not allow it.
President Donald Trump's proposed budget for fiscal year 2018 would kill the royalty sharing altogether.
"I just want to give everyone here the confidence that we at CPRA will get this figured out," Bradberry said at the Wednesday meeting.
Follow @https://twitter.com/sabrinacanfiel2
Subscribe to Closing Arguments
Sign up for new weekly newsletter Closing Arguments to get the latest about ongoing trials, major litigation and hot cases and rulings in courthouses around the U.S. and the world.