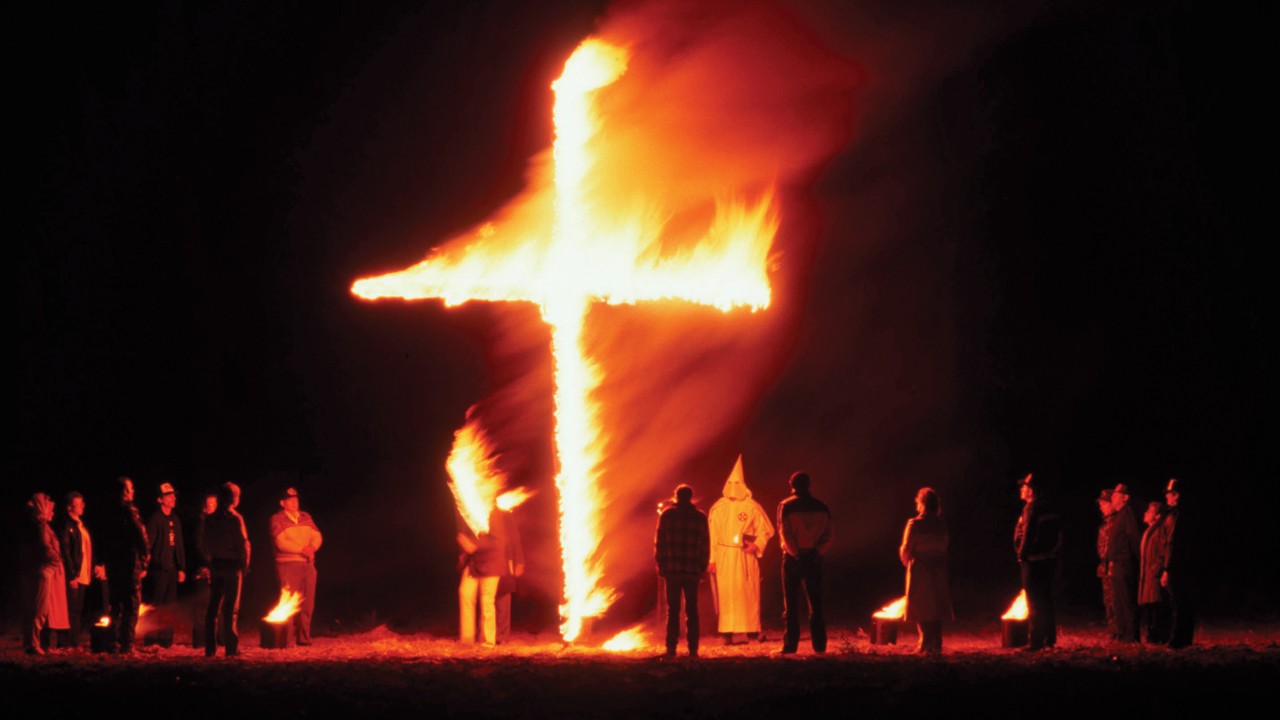 OKLAHOMA CITY (CN) - A former Oklahoma police chief claims he was fired in retaliation for testifying about the mayor's husband dressing up in a Ku Klux Klan robe in an embarrassing Halloween "prank."
Matthew Ray Hankins sued the town of Lahoma, Mayor Theresa Sharp and Brian Hamen on Monday in Federal Court.
Lahoma made national headlines in November when Sharp's husband, Cary, was pictured on social media with three other people dressed in KKK robes, holding lit torches around a cross.
Sharp tearfully apologized for her husband's " stupidity " the next day.
"It happened on my property. I don't know what else to say other than I am sorry to the community and I'm sorry to the public," she told ABC affiliate KOCO-TV. "It was the actions of four separate individuals and it does not reflect on me or anyone else in the community." Sharp's husband said at the time that it was his cousin's idea to dress up as Klansmen.
"I never realized it would be this harmful," he said. "I apologize to everybody for this."
Hankins says Sharp rejected requests for her to resign over the incident and chalked it up as a "prank," just "four good ol' boys sitting around drinking."
Hankins had been police chief for three months. He says he encountered Sharp's husband and defendant Hamen at the cross. He also says that Hamen was charged in January with damaging the personal vehicle of a reserve officer whom Hankins is dating.
One month after the "prank," Hankins says, town leaders told him he was up for a raise because his six month probationary period was over, but he would not be given one because of budget constraints.
On March 9, Hankins says, when he was called to testify about victim protective orders between his girlfriend and Hamen, he was asked about the KKK activities to which he responded on Halloween. The judge then dismissed both protective orders.
Hankins says Hamen then filed a false resident complaint against him.
"Brian Hamen wrote the resident complaint form with malicious intent as a response to the plaintiff bringing up the KKK event during his testimony in the victim protective order hearing," the 12-page complaint states. "The plaintiff was unexpectedly terminated without any notice at the town meeting on or about March 14, 2016."
Hankins seeks reinstatement and damages for violation of due process, retaliation, wrongful termination, defamation and conspiracy.
He is represented by Richard Rice in Midwest City, Okla.
Follow @davejourno
Subscribe to Closing Arguments
Sign up for new weekly newsletter Closing Arguments to get the latest about ongoing trials, major litigation and hot cases and rulings in courthouses around the U.S. and the world.