(CN) – A dispute involving private cemeteries is headed to the U.S. Supreme Court, after the justices agreed Monday to decide whether a property owner must first exhaust all state court remedies before filing a federal lawsuit asserting an unconstitutional taking of land.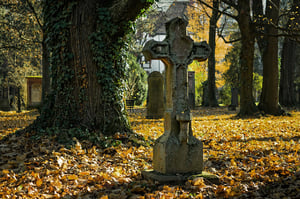 Rose Mary Knick challenged Scott Township, Pennsylvania's ordinance regulating cemeteries, which allows local officials to access any property in the township to determine the existence and location of a cemetery. It also requires property owners to keep their private cemeteries open to the public during the day.
A township official entered Knick's property without a warrant in April 2013 and identified certain stones as grave markers, according to court records. She disputes that a cemetery exists on her property.
Knick filed a federal lawsuit arguing the ordinance allows unrestrained searches of private property in violation of the Fourth Amendment, and takes property without just compensation in violation of the Fifth Amendment.
A federal judge dismissed the case and the Third Circuit affirmed last year.
Citing the U.S. Supreme Court's 1985 decision in Williamson County v. Hamilton Bank, the Philadelphia-based appeals court found that Knick did not exhaust her unconstitutional-takings claims in state court.
"The Township's ordinance is extraordinary and constitutionally suspect," U.S. Circuit Judge D. Brooks Smith wrote. "However, important justiciability considerations preclude us from reaching the merits. Because Knick concedes that her Fourth Amendment rights were not violated and fails to demonstrate that they imminently will be, Knick lacks standing to advance her Fourth Amendment challenge. And as the district court correctly held, Knick's Fifth Amendment claims are not ripe until she has sought and been denied just compensation using Pennsylvania's inverse-condemnation procedures."
Knick filed a petition for writ of certiorari last October, asking the U.S. Supreme Court to hear her appeal of the Third Circuit ruling.
"Through its interaction with claim and issue preclusion and removal jurisdiction, the state litigation ripeness rule deprives property owners of reasonable judicial access for a takings claim, impedes the orderly development of takings law, and causes a tremendous waste of judicial and litigant resources," the petition states.
On Monday, the Supreme Court agreed to reconsider whether property owners must exhaust state court remedies before pursuing a federal takings claim.
Per their custom, the justices did not comment on the decision to take up the case.
Subscribe to Closing Arguments
Sign up for new weekly newsletter Closing Arguments to get the latest about ongoing trials, major litigation and hot cases and rulings in courthouses around the U.S. and the world.