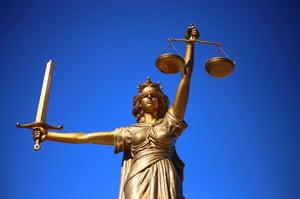 MANHATTAN (CN) — A man who confessed to killing his girlfriend will get a new trial, after the New York appeals court found he was denied a fair trial for second-degree murder because a juror failed to disclose she had applied for a job as an assistant district attorney.
The First Appellate Division of the New York Supreme Court on Tuesday vacated Equan Southall's 23-years-to-life sentence for second-degree murder. According to the 5-0 ruling, one juror's application to work for the New York County District Attorney's Office, which prosecuted the case, prevented her from rendering a fair and impartial verdict.
"While we recognize that there is no rule requiring automatic reversal in these situations, since the verdict was not returned by a fair and impartial jury and we find the juror would have been subject to removal for cause, we agree with defendant that he was denied a fair trial on the ground that he was not tried by a jury of his own choice," Justice Peter Tom wrote for the court.
Tom added: "Critically, the juror remaining on the jury was prejudicial to defendant because he was ultimately convicted by the jury."
The court found the juror's faith in her own fairness irrelevant.
"Even if the juror was sincerely convinced that she would be a fair juror, it was problematic for her to be one of the triers of fact in an action brought by her prospective employer," Tom wrote. "Her knowledge that she was seeking a job at the DA's Office, as well as her experience of crafting her argument in her cover letter to the DA's Office that she would be an excellent prosecutor there, created a relationship between her and the DA's office, which raised a high likelihood that she would be inclined to favor the People."
The voir dire process in Robert Southall's murder trial began on April 11, 2014, and the jury was sworn in on April 18.
During that week, the juror submitted an online application for a job as a prosecutor -- two days after she was questioned as a prospective juror, but two days before she was sworn in.
Two days before she applied for the job, the juror told the court she was "employed as an attorney" at "a large law firm doing corporate litigation, white col[la]r defense and securities."
Her hiring was disclosed eight months after Southall was sentenced, in a Jan. 22, 2015, letter to the court and the defense, from Craig J. Ortner, one of the two assistant district attorneys who tried the case.
Southall then filed a motion to vacate, which the Manhattan trial court denied, finding that the juror's testimony established that her vote in this case "was not influenced by any bias or prejudice arising from her employment application," and that she did not falsely answer any voir dire questions or violate the court's instructions.
Southall's appeals attorney John Vang with the Center for Appellate Litigation have not responded to a request for comment.
Equall's attorney Patrick Brackley argued at trial that Southall suffered from an extreme emotional disturbance, and sought, unsuccessfully, to reduce the charge to first-degree manslaughter.
Follow @jruss_jruss
Subscribe to Closing Arguments
Sign up for new weekly newsletter Closing Arguments to get the latest about ongoing trials, major litigation and hot cases and rulings in courthouses around the U.S. and the world.