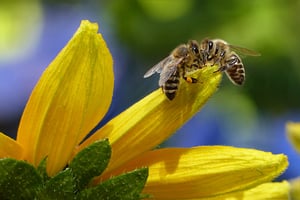 SAN FRANCISCO (CN) – A federal judge ruled Monday that the Environmental Protection Agency should not have approved 59 bee-killing pesticides that could pose a risk to endangered species.
Joined by a coalition of beekeepers and environmental groups, lead plaintiff Steve Ellis sued the EPA in March 2013, claiming the agency approved a particularly toxic strain of pesticides called neonicotinoids that have killed hundreds of thousands of bees and that also threaten imperiled birds and mammals.
In a 39-page ruling, U.S. District Judge Maxine Chesney found the EPA had a duty to consult with the U.S. Fish and Wildlife Service on how those pesticides might impact endangered species before approving them.
"It's a vital victory for bees, beekeepers and broader environmental protection," lead plaintiffs' counsel George Kimbrell said in an interview. "For us, this case is about this class of pesticides and their harmful impacts and our government's failure to adequately regulate them. This is an important decision in addressing those failures."
Chesney found the EPA improperly approved 38 pesticides containing Thiamethoxam and 21 pesticides containing Clothianidin. Both belong to the neonicotinoid class of chemicals, which "express themselves throughout the plant" in nectar, pollen and roots, according to Kimbrell. This leads to increased exposure for all forms of wildlife, including bees, he said.
The European Commission, the EU's regulatory and administrative body, placed a two-year moratorium on three neonicotinoids in 2015, after researchers found a link between the pesticides and bee deaths.
Chesney rejected arguments by intervening defendants and pesticide producers Bayer, Syngenta, Valent USA and Croplife America, who claimed the plaintiffs failed to establish a causal link between their products and the plaintiffs' interest in the threatened species.
The judge found members of plaintiff groups the Sierra Club and the Center for Food Safety have standing to sue because they regularly visit parks and other areas across the country to view and photograph endangered animals, including the piping plover, northern spotted owl and golden-cheeked warbler.
Evidence of harm to those species was established by the EPA's own documents stating that ingestion of Clothianidin-treated seeds could pose an acute or chronic toxic risk to endangered small birds and mammals, Chesney said.
However, the judge ruled in the EPA's favor on claims regarding 14 other pesticides, finding the court lacked jurisdiction due to conflicting laws or because the EPA's actions were not "approvals" that could be challenged in court.
Additionally, the judge rejected claims that the EPA acted arbitrarily and capriciously when it denied an emergency petition filed in March 2012 to suspend registrations of the challenged pesticides.
The EPA's partial response denying the petition was not arbitrary and capricious because the plaintiffs failed to show evidence of imminent hazard to an endangered species or that harm caused by the pesticides outweighed their benefits to growers, Chesney said.
With litigation over the EPA's initial response to the petition concluded, Kimbrell said the agency must now issue a full response to the 2012 petition and address supplemental findings, evidence and public comments submitted in support of it.
The plaintiffs will meet and confer with the EPA on next steps for the 49 pesticides, Kimbrell added, emphasizing that the agency is legally obligated to formally consult with the U.S. Fish and Wildlife Service. That is "a lengthy process" in which the expert wildlife agency must evaluate harms to threatened species and issue a set of recommendations in a biological opinion, he said.
The decision comes as a welcome victory to beekeepers and environmentalists after a judge ruled in a separate lawsuit last November that the EPA did not abdicate its duty or illegally create new rules when it declared some bee-killing pesticides exempt from regulatory requirements.
Other named plaintiffs in the EPA lawsuit include beekeeper and honey producers Tom Theobald, Jim Doan and Bill Rhodes, joined by public interest groups Beyond Pesticides, Pesticide Action Network North America, and the Center for Environmental Health.
Kimbrell is with the Center for Food Safety in Portland, Oregon.
EPA Region 9 spokeswoman Michelle Hiutric deferred comment to the EPA's Washington D.C. office, which did not immediately respond to an email seeking comment Tuesday.
Follow @NicholasIovino
Subscribe to Closing Arguments
Sign up for new weekly newsletter Closing Arguments to get the latest about ongoing trials, major litigation and hot cases and rulings in courthouses around the U.S. and the world.