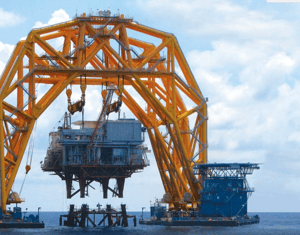 SAN FRANCISCO (CN) — A federal judge this week refused to certify a class of Nigerians who demand $1.5 billion from Chevron for a 2012 gas rig explosion.
U.S. District Judge Susan Illston on Monday had few kind words for the remaining named plaintiff, or his witnesses, or his attorneys.
The original lead plaintiff, Dr. Foster Ogola sued Chevron in January 2014, claiming an estimated 65,000 residents of the Niger Delta Region in Southern Nigeria suffered health problems and lost income from fishing and farming due to contamination from the blast.
The KS Endeavor, an offshore natural gas rig drilling 5 nautical miles off the coast of Nigeria in North Apoi Field, exploded on Jan. 16, 2012, causing a fire that burned for 46 days.
Ogala et al. said they were "directly affected by, interested in and having claims arising out of the incident," and suffered "losses to their livelihood, environmental damage, and health problems as a result of the explosion and fire."
Ogala said KS Drilling was negligently operated by KS Endeavor under the management of Chevron Nigeria Limited (CNL).
Chevron Corp., Chevron Investments and Chevron U.S.A. (CUSA) were named as defendants, but not Chevron Nigeria Ltd., a wholly owned subsidiary of Chevron Investments.
U.S. District Judge Samuel Conti dismissed the original complaint in May 2014 for failure to state claims against the defendant companies as alter egos of Chevron Nigeria Ltd.
In August that year, Conti slammed the Nigerians for copying their amended $5 billion lawsuit "almost verbatim from the original complaint."
That lawsuit survived, however, as Conti said in November 2014 that he was "ill-suited" to address specifics of the plaintiffs' alleged injuries.
Ruling on a third amended complaint in July 2015, Conti found that the plaintiffs were "not cooperating with their own counsel."
The now-retired Conti dismissed that suit with leave to amend, and the plaintiffs filed a fourth amended complaint in September 2015.
Ogola and four others were terminated as named plaintiffs. Natto Iyela Gbarabe, a fisherman from the Koluama community in the Southern Ijaw Local Government area of Bayelsa State in the Niger Delta, now serves as the sole named plaintiff.
The fourth amended complaint reduced the putative class from 15,000 to 12,600 people and eliminated three communities that were covered by the previous lawsuits.
On Monday, Judge Illston denied Gbarabe's motions for class certification and his request to substitute a fisheries expert, and granted Chevron's motions to strike and exclude a socioeconomic report and other testimony.
Illston wrote that Gbarabe "has failed to show through any evidence that causation can be proven on a classwide basis, and much of the evidence submitted has been shown to be unreliable."
Gbarabe repeatedly showed "disregard" for scheduling orders, the 60-page ruling states, and relied on an expert, nonparty Jasper Abowei, who altered report data to support his conclusions, Illston found.
"Among the myriad problems with Professor Abowei's report, there is no scientific data or analysis supporting the report's conclusions, and when asked at his deposition whether the rig explosion caused pollution, Professor Abowei could only say 'maybe it did, maybe it didn't,'" Illston wrote.
"The court is very troubled by the fact that Abowei apparently altered data to fit his theory and that he copied data from unrelated studies and passed that data off as relevant to the issues in this case," Illston added.  
As for class certification, Illston said, there "would undoubtedly be significant difficulties in managing a class of thousands of Nigerian residents."  
Plaintiff's counsel repeatedly acknowledged that they had difficulty obtaining verifiable information regarding the claims of their so-called clients, Illston found.
Because Chevron lacks power to subpoena witnesses from Nigeria, Illston added, only class member witnesses that Gbarabe "wants or is able to proffer" would be available at trial.
Illston also pointedly questioned Gbarabe's counsel.
"In short, the entire manner in which plaintiff's counsel have litigated this action leads the court to conclude that they should not be appointed as class counsel," she wrote.
She set a case management conference for April 14.
Subscribe to Closing Arguments
Sign up for new weekly newsletter Closing Arguments to get the latest about ongoing trials, major litigation and hot cases and rulings in courthouses around the U.S. and the world.