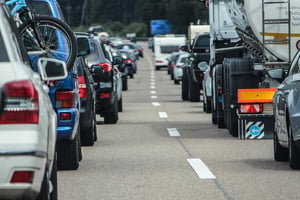 HACKENSACK, N.J. (CN) — The small New Jersey town by the George Washington Bridge that banned nonresidents from driving on its streets during rush hour has been sued by a commuter who says it has no right to deny her access to public streets.
Leonia, N.J., made national news in January when it enacted a nonresident driving ban because when traffic backed up on I-95, GPS apps directed commuters to alternate routes through its streets. Leonia residents told The New York Times that rush-hour traffic was so heavy at times they could not pull out of their own driveways.
Leonia, pop. 9,200, is just west of Fort Lee — famous for its role in then-Governor Chris Christie's Bridgegate scandal, in which Christie's staff members closed off lanes of the George Washington Bridge to punish the mayor for political vengeance: "Time for some traffic problems in Fort Lee."
The borough of Leonia approved its rush-hour traffic ban on Jan. 22. Jacqueline Rosa sued the town and its mayor on Tuesday in Bergen County Court. Rosa, an attorney with the Siegel Law Firm in Ridgewood, filed the complaint pro se.
To drive from Ridgewood to New York City, the shortest route would take a commuter through Leonia and Fort Lee via I-95 and across the George Washington Bridge.
When I-95 is backed up, some commuters bail out and take side streets through Leonia, guided by popular GPS apps. The borough council approved ordinances subsections 194-25.1 and 194-25.2 to try to stop it.
The ordinances close more than 70 streets to the public during designated hours, unless they are a resident of the specific street, need access to their home, or can name a business to which they are going.
The nonresidential travel ban runs from 6 to 10 a.m. and 4 to 9 p.m. seven days a week. People who live or work in Leonia can be exempted by applying for a yellow vehicle tag.
Driving violations by nonresidents are punishable by a $200 fine.
Rosa says the ordinance violates her right to travel on public streets, and burdens surrounding municipalities, on whom traffic will be dumped.
She also says Leonia is violating state law, specifically N.J.S.A 39:4-8, which requires local ordinances that affect a state roadway to get approval from the state highway commissioner, which Leonia failed to do.
And, Rosa says, N.J.S.A 39:4-94.2 states that anyone who drives a vehicle on a closed section of road may be fined no more than $100.
"The Borough has unilaterally decided on a fee they can charge to motorists which is in direct violation of state law," she says in the 6-page complaint.
Leonia and Mayor Judah Ziegler did not respond to emailed requests for comment.
Rosa seeks a declaration that the ordinance "is void and of no effect" for violating state laws, and costs of suit.
The Times reported that Leonia expected to start issuing fines on Monday, Feb. 5.
"We are not looking to create a police state here," Leonia Police Chief Tom Rowe told the Times. "The name of the game is to work with the traffic navigation apps and put these streets out of play."
Leonia's median household income of $93,562 is 23 percent above the statewide median of $76,126, according to city-data.com. Its median home value of $493,904 is 50 percent above the statewide median of $328,800, according to city-data.
Subscribe to Closing Arguments
Sign up for new weekly newsletter Closing Arguments to get the latest about ongoing trials, major litigation and hot cases and rulings in courthouses around the U.S. and the world.