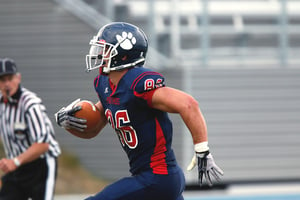 CHICAGO (CN) – Rattled by the number of football concussion-related claims, Great American Assurance Company asked a federal judge to declare that its policy covering the Big Ten excludes coverage for football-related injuries.
In January 2016, the National Collegiate Athletic Association agreed to revamp the way college-sports programs handle player concussions and established a $70 million fund to test current and former athletes for brain injuries.
Under the terms of the settlement agreement, players will not be allowed to return to action the same day they receive a concussion, and everyone on the sidelines, including players, coaches and trainers, will be subject to mandatory concussion education.
The settlement also requires the NCAA to contribute $5 million toward concussion-related research.
Following this settlement, the NCAA was hit with a wave of concussion-related personal injury suits filed by former college football players for alleged injuries sustained because they were repeatedly sent back in to play after sustaining a concussion. These cases, many of which also named the Big Ten as a defendant, have been consolidated into multidistrict litigation.
Rattled by the enormous sums sought by these lawsuits, the Big Ten Conference's insurer, Great American Assurance Company, filed a lawsuit Wednesday in Chicago federal court to reform its policy covering student-athletes' "bodily injury" to exclude football players.
Great American seeks to limit its coverage only to basketball, cross-country, golf, tennis, track & field, swimming, field hockey, wrestling, soccer, gymnastics, softball, baseball, and women's rowing.
"The primary policy mistakenly failed to reflect the agreement the Big Ten and Great American actually reached. Specifically, it does not include a Designated Activities endorsement that limits coverage to the 21 sports for which the Big Ten requested coverage and paid a premium. The Big Ten and Great American were mutually mistaken at the time the policy was issued that the written document reflected the actual agreement made," according to the complaint.
Great American filed a separate, similar lawsuit against the Ohio Valley Conference on Tuesday in Nashville.
The insurer says its intent to exclude football as a covered activity is clear because it never included attendance information for football games.
"The mistake was a mistake of fact material to the transaction and would result in a windfall to the Big Ten for the Griffin, Jerrick, Rose, Strinko, and Samuels lawsuits, or any other claim or suit alleging bodily injury for football-related sports injuries," Great American claims.
The insurer is represented by Michael Marisk with Hinshaw & Culbertson in Chicago and Charles Spevacek with Meagher & Geer in Minneapolis.
The Big Ten did not immediately respond Thursday to a request for comment.
Subscribe to Closing Arguments
Sign up for new weekly newsletter Closing Arguments to get the latest about ongoing trials, major litigation and hot cases and rulings in courthouses around the U.S. and the world.