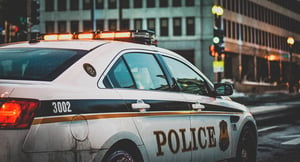 SAN ANTONIO (CN) — Two San Antonio police officers imprisoned for conning women to have sex with them in a fake undercover investigation face a federal lawsuit for civil rights violations and sexual assault.
A Bexar County jury in March convicted former San Antonio police Officers Emmanuel Galindo and Alejandro Chapa of sexual assault, promotion of prostitution and official oppression.
Galindo, 31, was sentenced to 10 years in prison; Chapa, 30, got 6 years. They tricked women into having nonconsensual sex with them under the guise that it was for a secret police department operation.
Jane Doe sued Galindo, Chapa, and San Antonio on June 6, saying the officers offered her legal help and money beginning in March 2015 for helping them with supposed undercover work. She says the officers "tested" her by demanding that she have sex with both of them on at least three occasions.
"Concerned about the consequences of saying 'No' to a San Antonio Police officer and against her better judgment, but believing the false representations of Officer Galindo to be true, plaintiff engaged in sexual intercourse with Officer Galindo," the complaint states.
Doe, a 26-year-old mother of two adopted children, says Galindo then ordered her to have unprotected sex with Chapa under the threat of removing her from the program, "which would include any of the stated financial benefits."
"It is undisputed that the defendant officers demanded sexual relations with the plaintiff as part of a fake undercover operation for which the officers promised the plaintiff that she would be compensated," the 13-page complaint states.
Doe says another "test" included taking keys from an unsuspecting bar patron and delivering the keys to the officers. Later that night, Chapa demanded, and received "unprotected intercourse with the plaintiff."
Doe says the officers targeted her because they knew she was needed financial help for a custody dispute. She says the men told her repeatedly she would be able to "sign a contract" with the San Antonio Police Department, and be paid for her work in the phony undercover program.
The disgraced officers' scheme came to an end in August 2015 when the nearby Live Oak Police Department called Doe in for questioning and she learned there were 20 women involved in their fraudulent undercover operation, according to the lawsuit.
She blames the City of San Antonio for failing to enact and enforce procedures to protect citizens from officer misconduct.
"There is a pattern of misconduct, sexual assault coverup, and rape by oppression, originating from a failure to train, discipline or supervise the police officers of the San Antonio Police Department of the Defendant City of San Antonio, and an unofficial policy in the City of San Antonio that is persistent and widespread," the complaint states.
She seeks punitive damages for civil rights violations, sexual assault, conspiracy, physical pain and mental anguish.
She is represented by Brian Steward with Ketterman Rowland & Westlund.
Galindo is scheduled for release in March 2027; he will be eligible for parole in 2021. Chapa's release date is March 2023; he is eligible for parole in 2019. They are serving their sentences in separate state prisons.
Follow @@eidelagarza
Subscribe to Closing Arguments
Sign up for new weekly newsletter Closing Arguments to get the latest about ongoing trials, major litigation and hot cases and rulings in courthouses around the U.S. and the world.