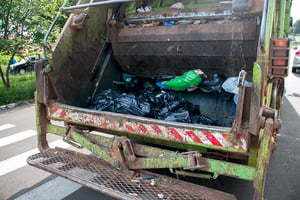 HOUSTON (CN) – Houston garbage collectors are working 16-hour days picking up piles of soggy building materials removed from flooded homes, and the mayor says the process could drag on until Christmas if a tax hike is not approved to pay for more garbage contractors.
It's been two more than two weeks since Hurricane Harvey dumped an unprecedented 51 inches of rain on Greater Houston, but evidence of the disaster lingers on curbs throughout the city and unsightly mounds of soggy drywall, carpet, doors and wood flooring that officials say are becoming a rancid health hazard.
Mayor Sylvester Turner has estimated the city will have to pick up 800,000 dump trucks of debris from the more than 125,000 homes flooded by Harvey.
Houston has already spent the $20 million that was in its emergency fund on Harvey recovery efforts, and Turner said at a City Council meeting Tuesday he expects trash disposal costs to exceed $200 million, leaving the city with a more than $20 million bill after the Federal Emergency Management Agency reimburses 90 percent.
So Turner is asking the City Council to approve an 8.9 percent property tax increase for 12 months that would cost the owner of a $225,000 home about $118.
The proposal brought anti-tax advocate Bruce Hotze to the meeting. Hotze, a lifelong Houstonian, said homes owned by two of his children were flooded by Harvey and that some of his displaced family is staying at his house in west Houston. He unsuccessfully intervened in a 2010 lawsuit the city filed to get approval of an increase in sewer and water fees.
Hotze stood at a podium in front of Turner and the City Council for an hour – speakers usually only get two minutes to address the council – his eyes twinkling beneath his bushy eyebrows, as several councilmen told how they are getting dozens of phone calls and emails from constituents each day asking when the city is going to pick up the trash in front of their homes.
Hotze said the city should delay the tax hike until the Harris County Appraisal District can reappraise flooded homes. Houston is Harris County's seat.
"I'm not against raising taxes to take care of this for the year, but I don't want to put the burden on those houses that are already flooded out," he said.
"You want us to go back and reappraise all those homes, how long does that take?" Vice Mayor Pro-Tem Jerry Davis asked Hotze.
"I'm not sure. I would ask HCAD," Hotze replied, abbreviating the Harris County Appraisal District.
"How many homes are we talking about?" Davis asked.
"We heard 800 here earlier today, just in that one neighborhood."
"OK, so how many homes are we talking about?"
"I don't know how many homes there are. The mayor probably knows, or somebody here knows how many homes there are," Hotze said, his Texas twang faltering beneath Davis' barrage.
Hotze is CEO of Houston-based Compressor Engineering Corp., a compressor-parts manufacturing company founded by his father in 1964. Hotze owns a home in west Houston that is appraised at $1.3 million, according to public records.
He told Davis that residents of his neighborhood have already removed their flood debris.