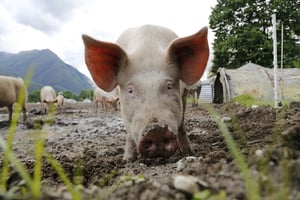 CORYDON, Ind. (CN) – Claiming a pig-wrestling contest scheduled for this year's Harrison County Fair constitutes animal cruelty, an Indiana man sued to stop the event and make it a thing of the past through a permanent injunction.
In his complaint filed Thursday against the Harrison County Agricultural Society, sponsor of the annual Harrison County Agricultural Fair, plaintiff Harold Wilson describes pig wrestling as an event in which teams of four people "torment" the pigs by "chasing, grabbing, tackling and dragging" them before "slamming them into barrel drums or tires."
Such treatment, Wilson alleges, violates Section 19 of the Harrison County Animal Control Ordinance, which makes it unlawful for any person to "willfully or maliciously torture, torment, beat, kick, strike, mutilate, injure, or disable any animal."
Wilson says in the Harrison County Circuit Court lawsuit that he, as a citizen of the county, is "interested in the execution and enforcement of the laws and ordinances of Harrison County, namely, the Harrison County Animal Control Ordinance."
According to the complaint, Wilson first approached the Harrison County Agricultural Society in 2015, demanding that it refrain from organizing, sponsoring, promoting or otherwise allowing pig wrestling at the county fair.
Despite the organization's refusal, Wilson has kept up a campaign to do away with pig wrestling, or pig "catching" as it is sometimes called, at the Harrison County Fair.
People for the Ethical Treatment of Animals denounces pig wrestling as a "barbaric activity"  and explains how "terrified" pigs are blindsided, chased, tackled, dragged and then slammed, often head-first, into barrels or tires. During a match, PETA says, pig wrestling team members may pile up on top of the pig, or lift up the pig and then drop it, likely resulting in severe injuries to the animal.
The Harrison County Agricultural Fair has been an annual event since 1860. According to its pig-wrestling entry form, which tells participants to "be ready to have fun," each pig-wrestling team made up of a captain and three team members must pay an entry fee of $40. Teams may also seek corporate sponsorship.
In recent years, and with mixed results, anti-animal cruelty advocates have protested pig wrestling in several states, including Utah, Wyoming, and Wisconsin.
Todd Uhl, president of the Harrison County Fair Board, did not respond Friday to a phone call requesting comment.
Wilson seeks an initial temporary injunction blocking this year's pig-wrestling contest, and a permanent injunction to stop future events. He is represented by Amy Wheatley, an attorney with the Law Office of Nick Stein in New Albany, Ind.
Harrison County Agricultural Society is an Indiana nonprofit corporation. Bordering the Ohio River, Harrison County is one of Indiana's southernmost counties.
Subscribe to Closing Arguments
Sign up for new weekly newsletter Closing Arguments to get the latest about ongoing trials, major litigation and hot cases and rulings in courthouses around the U.S. and the world.