MANHATTAN (CN) — Former Honduran President Juan Orlando Hernández faced a U.S. court for the first time on Friday, presented in front of a federal judge in New York City one day after his arrest and extradition here to face federal drug trafficking charges.
Hernández, 53, appeared unfazed during the hearing conducted over videoconference, wearing a dark blue puffer coat over a light blue dress shirt, and occasionally taking sips from a can of Coca-Cola as he listened to the proceedings via a Spanish language interpreter.
He was arrested at his home in Tegucigalpa, Honduras, on Thursday and extradited overnight to the United States. Assistant U.S. Attorney Elinor Tarlow noted to the judge this afternoon that Hernández arrived in the Southern District of New York shortly before 1 a.m. on Friday morning,
Just three months earlier, Hernández had been serving as president of the Central American nation since 2014.
According to the indictment unsealed Thursday, Colombian and Venezuelan drug traffickers paid bribes to Hernandez and other public officials, including to other past presidents, members of the National Congress of Honduras, Honduran National Police, and Honduran military. 
He was charged in a 19-page superseding indictment with participating in a drug trafficking conspiracy, possession of machine guns and destructive devices and conspiracy to possess machine guns and destructive devices.
It accuses the former president of accepting bribes totaling in the millions of dollars from drug trafficking organizations, one being the Sinaloa Cartel.
In turn, he protected shipments of cocaine moving from Venezuela and Colombia, for instance, as they moved through Honduras and onto the United States.
In exchange for the bribes, those Honduran public officials provided drug traffickers with "protection from investigation and arrest and access to law enforcement and military information including data from flight radar in Honduras, which enabled drug traffickers to evade detection by Honduran authorities," prosecutors allege.
Represented on Friday by attorney Raymond Colon, Hernández did not oppose his current detention but his attorney asked to request bail "down the road" once they're able to line up a surety bond in the jurisdiction. U.S. Magistrate Judge Stewart D. Aaron was presiding.
Hernandez is currently in the custody of the Drug Enforcement Administration, a U.S. marshal told reporters Friday afternoon.
If convicted of the conspiracy charge, Hernández could face up to life in prison.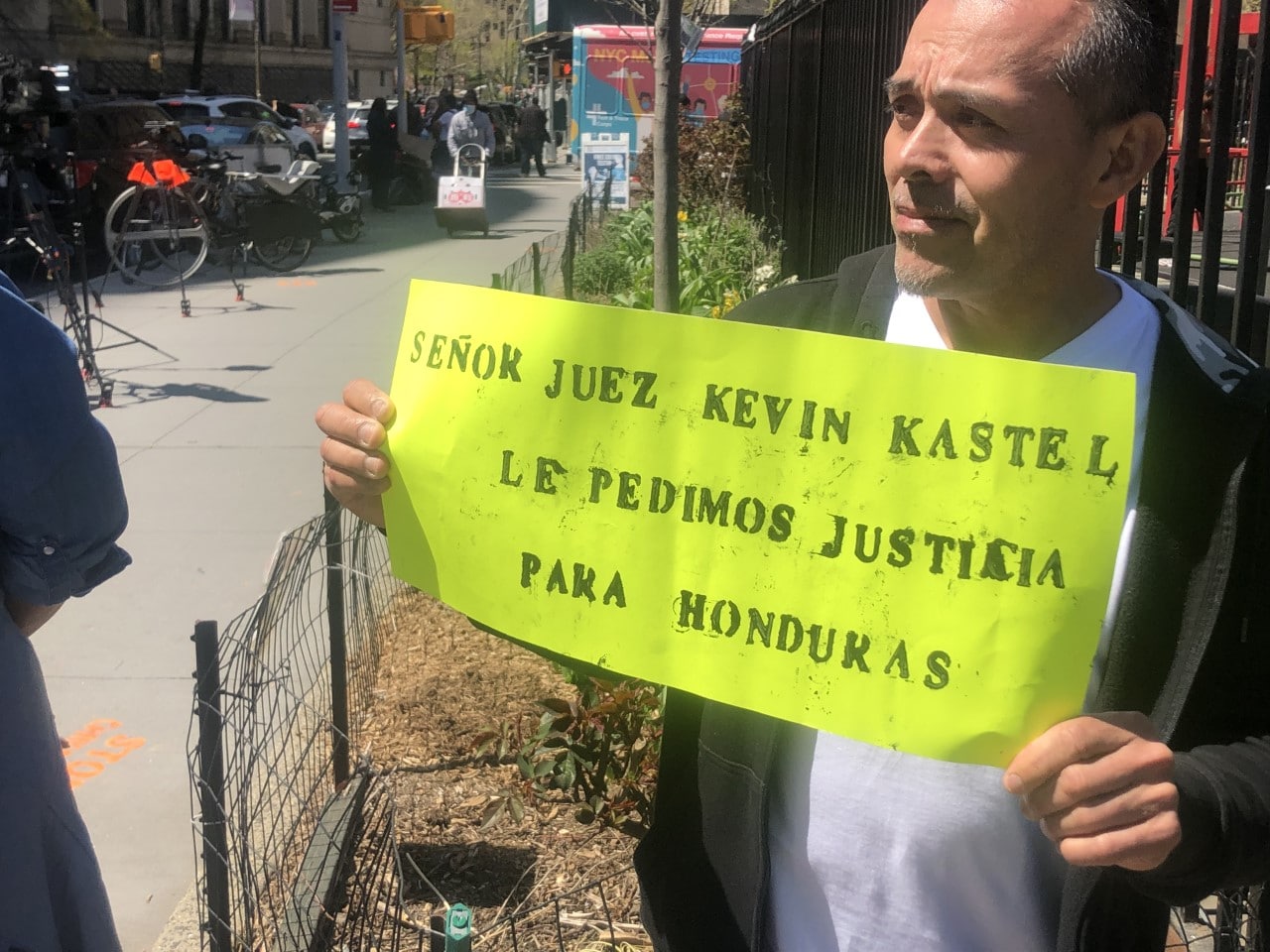 The indictment charges Hernández with involvement in the sending 500 tons of cocaine to the states dating back to 2004 and when he was still just a congressman.
Once the cocaine arrived in Honduras, typically by speed boat or small aircraft, the traffickers transported the drugs westward in Honduras toward the border with Guatemala and eventually to the United States.
The indictment said, because Hernadez accepted a bribe from Victor Hugo Diaz Morales, aka El Rojo, certain officials were placed in law enforcement positions. And that, the indictment said, was how Diaz Moralez learned about the radar capabilities of the nation so drug-running planes could avoid detection, for instance.
With Hernández in power, the Honduran police and military protected the shipment of drugs and violence in the country metastasized as Honduras became a full blown narco-state.
In turn, Hernández allegedly used the money he accepted from drug traffickers to engage in voter fraud during the 2013 and 2017 presidential elections in that country.
The former president "corrupted the legitimate institutions of Honduras," the indictment says.
Hernández has denied any wrongdoing. In a video message released Thursday, he said, "I am innocent; I have been and I am being unjustly subjected to prosecution."
Several dozen Hondurans gathered outside of the Manhattan federal courthouse in support of the arrest and extradition, with signs and banners that said, "Senor Juez Kevin Kastel, Le Pedimos Justicia Para Honduras" (Your Honor Judge Kevin Kastel, we ask you for justice for Honduras)," "No Clemencia Para Los-Politicos" (No clemency for the narco-politicians), and "Justicias Para Las Victimas Del Narcotrafico" (Justice for the victims of narco-trafficking).
Hernández will be formally arraigned before Senior U.S. District Judge Kevin Castel on May 10.
Judge Castel, a George W. Bush appointee, also oversaw the case against Hernández's brother, Juan Antonio "Tony" Hernández, a former Honduran congressman, who was sentenced to life in prison and ordered to forfeit $138 million.
Follow @jruss_jruss
Read the Top 8
Sign up for the Top 8, a roundup of the day's top stories delivered directly to your inbox Monday through Friday.