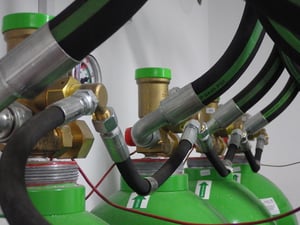 HOUSTON (CN) — Arkema once operated its peroxide plant near Houston in obscurity, but an explosive chemical release caused by Hurricane Harvey shined an unflattering light that intensified Thursday when seven first responders sued the company for exposing them to hazardous fumes.
Arkema is a massive company, with workers in 49 countries. But its plant in Crosby, a small town with big woods and motorcycle trails 26 miles northeast of Houston, never stood out in a region with hundreds of chemical plants.
Arkema shut the plant down on Friday, Aug. 25 before Hurricane Harvey made landfall late that night as a Category 4 hurricane near Corpus Christi.
It left 11 employees on site to ride out the storm, but was forced to evacuate them when 40 inches of rain flooded the plant on Sunday, Aug. 27, knocking out power and disabling backup generators needed to cool organic peroxides, from which Arkema makes plastic resins.
"Those chemicals required refrigeration, and the lack thereof was going to undoubtedly cause the chemicals to break down and ignite," lead plaintiff Christy Graves says in the lawsuit in Harris County Court.
Graves and six others seek at least $1 million in damages from Arkema and company officials Richard Rennard, Richard P. Rowe and Andrew Burdett. Arkema spun off from French oil company Total in 2004 and debuted on the Paris Stock Exchange in 2006.
After local officials called for a voluntary evacuation of people living within 1.5 miles of the plant, Rennard and Rowe held news conferences in which they said the chemicals would heat up and could explode, but repeatedly denied they were toxic, according to the lawsuit.
The chemicals caught fire and exploded around 2 a.m. on Aug. 31 and as first responders and police descended on the plant, Graves says, they were stricken by toxic fumes.
She says no one from Arkema warned them and they breathed the fumes.
"The scene was nothing less than chaos. Police officers were doubled over vomiting unable to breathe. Medical personnel, in their attempts to provide assistance to the officers, became overwhelmed and they too began to vomit and gasp for air," the lawsuit states.
Fifteen Harris County sheriff's officers went to hospital due to the smoke and fumes, though none suffered any life-threatening injuries, a sheriff's office spokesman said on Aug. 31.
With people who live near the plant anxious to return to their flooded homes, Arkema lit the rest of the peroxides on Sept. 3, releasing smoke plumes that could be seen for miles, Graves says.
She says debris from the blasts fell on homes outside the "arbitrary" 1.5-mile evacuation zone.
Graves and the other first responders seek punitive damages for gross negligence and negligence. They also want their medical bills paid, lost wages, and preservation of evidence.
Harris County state judge Daryl Moore granted their request for a temporary restraining order Thursday, ordering Arkema not to destroy its documentation of the incident, such as test results of soil and air samples and video footage.
He also ordered Arkema to keep all emails and text messages it exchanged with state and federal regulators as the crisis unfolded
Graves is represented by Kimberly Spurlock in Humble, a northern Houston suburb, and Muhammad Aziz with the Houston firm Abraham, Watkins, Nichols, Sorrels, Agosto and Aziz.
Twenty homeowners who claim tar balls from the explosions fell in their yards have asked to be added as plaintiffs, the attorneys told the Houston Chronicle, which reported that the Chemical Safety Board is investigating Arkema.
Arkema's share price closed at $93.67 on the Paris Stock Exchange on Tuesday, down from a one-year high of $100.25 on July 19.
Arkema could not be reached for comment after business hours Thursday.
Follow @cam_langford
Subscribe to Closing Arguments
Sign up for new weekly newsletter Closing Arguments to get the latest about ongoing trials, major litigation and hot cases and rulings in courthouses around the U.S. and the world.