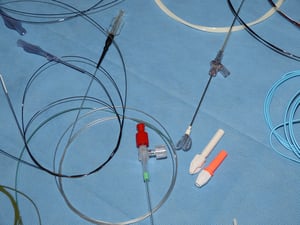 SIOUX FALLS, S.D. (CN) – South Dakota's state-sanctioned usage of forced catheterization – a process to gather urine from citizens not voluntarily submitting samples – is unconstitutional, two federal complaints claim.
Plaintiffs in the cases, filed by the American Civil Liberties Union and Rapid City attorney James Leach, include four men, one woman and a 3-year-old boy.
"As far as we know, no state has forcibly catheterized a child," ACLU spokeswoman Jennifer Petersen said in an interview. "That's what makes South Dakota unique."
Thursday's lawsuits claim that law enforcement – and in one instance, the state's Department of Social Services – are too quick to use a technique that can cause long-term physical and psychological damage.
Relying in part on the April reporting of local newspaper The Argus Leader, the lawsuits quote from an interview with South Dakota Attorney General Marty Jackley.
"[A]gents would only pursue forced urine samples in 'exceptional' circumstances," Jackley said, as quoted in one of the lawsuits, "such as fatal vehicular homicide case in which drugs are suspected to be a factor."
One lawsuit targets the police forces in the state's capital city of Pierre and in Sisseton, a community on the Lake Traverse Indian Reservation in northeast South Dakota. It describes officers in Pierre stopping plaintiff Jason Riis in traffic, holding him down and placing a catheterization unit around his genitals, even after he'd agreed to urinate into a cup.
The lawsuit accuses the officers of forcing the test to gratify "their personal sadistic desires." Other plaintiffs include a Nebraska woman who police thought was smoking marijuana. Gena Alvarez claims the use of forced catheterization was even more traumatizing because of her past experiences with childhood abuse.
The second lawsuit relates an incident from Feb. 23 of this year, when police in Pierre were called to Kirsten Hunter's residence and found marijuana in the home she shared with her two children and live-in boyfriend. The next day, after receiving orders by state social workers Hunter says she didn't know she could contest, she took her 3-year-old son to St. Mary's Hospital, where staff held him down and used a catheter on his penis to obtain a urine test to check for drugs. According to the lawsuit, the catheter was used because the boy was not yet toilet trained.
The child "screamed," the lawsuit says, and suffered "physical and emotional pain" for "several days after." Two days later, Hunter took him to the hospital two hours away in Huron, South Dakota, where they gave him Tylenol for the pain, according to the lawsuit. She says a couple days later, he was back at St. Mary's with a staph infection.
The lawsuits call for the practice — which they say is "widely" used in South Dakota — to be ruled unconstitutional by the court, claiming violation of Fourth Amendment protections against unreasonable search and seizure.
Subscribe to Closing Arguments
Sign up for new weekly newsletter Closing Arguments to get the latest about ongoing trials, major litigation and hot cases and rulings in courthouses around the U.S. and the world.