WASHINGTON (CN) — The Senate Judiciary Committee returned to work Thursday voting on the Biden administration's federal court nominees, despite the prominent absence of one of the panel's most senior Democratic members.
The meet of the upper chamber's legal affairs happened only days after the GOP stymied efforts from Senate Democrats to find a replacement for Senator Dianne Feinstein, who has been in her home state of California since February. Republican lawmakers including Senate Minority Leader Mitch McConnell argued that signing off on a stand-in for Feinstein's committee work would allow Democrats to ram through the White House's more radical judicial picks.
South Carolina Republican Lindsey Graham contended Thursday that business could continue as usual in Feinstein's absence, and expressed willingness to continue working with Democrats as they consider judicial nominees.
"Today, I'm going to do my part — and I know my colleagues will vote the way they think is best — to keep the committee moving forward," said Graham, the Judiciary Committee's ranking member. "There are things that we can agree on in this committee. Sometimes we can't."
Graham sent his well wishes to Feinstein, 89, who is recovering from a case of shingles.
The committee voted to advance nine of the Biden administration's nominees, including seven judges, a U.S. attorney and a U.S. marshal, with thin bipartisan support. Those nominations are headed to the Democrat-controlled Senate floor.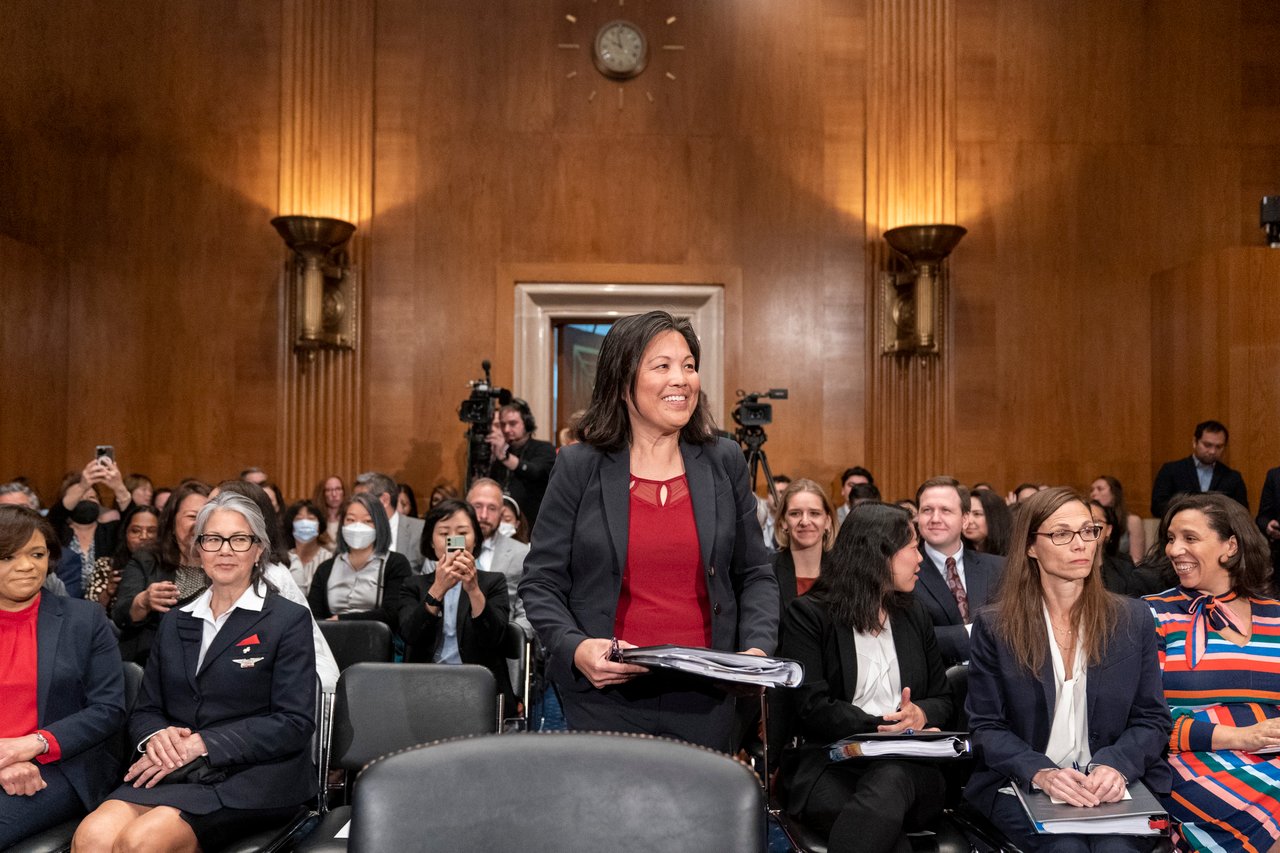 Elsewhere on Capitol Hill, the upper chamber's nominations work continued Thursday in the Senate Committee on Health, Education, Labor and Pensions. Lawmakers on the workforce panel were split over Julie Su, the White House's pick to replace Marty Walsh as secretary of labor.
Su has been acting labor secretary since March, tapped weeks earlier by the Biden administration after Walsh announced his departure to become executive director of the National Hockey League Player's Association.
Labor panel chair Bernie Sanders expressed his strong support for Su's nomination, positioning her as a champion of workers' rights.
"While many corporate interests — not all, but many — oppose her nomination, she is supported by every major labor organization in the country, representing over 20 million workers," the Vermont Independent said.
"Her qualifications are unmatched, and I'm confident that her service will fundamentally strengthen the American workforce in the years ahead," said California Democrat Alex Padilla, testifying in support of Su's nomination.
Opponents of Su's nomination have assailed her labor policy record, pointing to her time serving as California's labor secretary and head of the state's labor standards enforcement office.
Remixing some of congressional Republicans' past gripes with Su, labor panel ranking member Bill Cassidy pointed Thursday to her work to enforce a controversial California employment law known as AB 5 that the lawmaker said dismantled the state's gig economy for employers of companies such as Uber and Doordash.
"Senator Sanders suggests that all workers would be united in supporting this nomination, but those independent contractors opposed AB 5," Cassidy argued. The Louisiana Republican pushed back on claims from Su that she was merely enforcing a law already on the books, contending that he had spoken with people in California who claim she was "quite the cheerleader" for the measure.
Cassidy sought to tie Su's support for AB 5 to her role in an October proposed rule from the Department of Labor aimed at revising agency guidelines that determine whether employees can be considered independent contractors, a change that the department has said would reduce the risk of workers being misclassified as independent.
"A law rejected in California is not a policy that should be spread across the nation," the lawmaker said.
Sanders, meanwhile, painted opposition to Su's nomination as doing the bidding of corporate interests.
"Let us be honest as we gather here this morning," the Independent senator said. "The debate over Ms. Su really has nothing to do with her qualifications. This debate, really, has everything to do with the fact that Ms. Su is a champion of the working class of this country who will stand up against the forces of corporate greed."
A 2021 vote in the Senate that confirmed Su as assistant secretary of labor was split strictly on party lines — every Republican lawmaker voted against her nomination.
Follow @@BenjaminSWeiss
Read the Top 8
Sign up for the Top 8, a roundup of the day's top stories delivered directly to your inbox Monday through Friday.