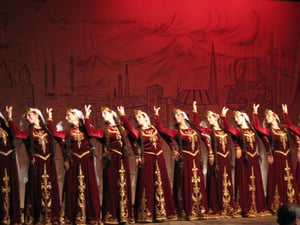 BROOKLYN, N.Y. (C N) - Federal prosecutors unveiled visa-fraud charges against a trio they say doctored fliers for Armenian folk concerts and staged photos of immigrants dressed in traditional dance costumes.
Unsealed Wednesday in Brooklyn, the 13-page indictment alleges an elaborate scheme to exploit the P-3 visa program, which U.S. Customs and Immigration Services makes available to immigrants who are either "developing, interpreting, representing, coaching, or teaching a unique or traditional ethnic, folk, cultural, musical, theatrical, or artistic performance or presentation."
Individuals who qualify for such visas "must be coming to the United States to participate in a cultural event or events which will further the understanding or development of your art form," ICE's website states.
But prosecutors say there were no such performances for the immigrants recruited by Armenian immigrant Stella Boyadjian, a naturalized U.S. citizen who runs Big Apple Music Awards Foundation in Queens.
Together with two Armenian co-defendants, Boyadjian charged alien applicants between $3,000 and $15,000 "to fraudulently obtain P-3 visas by submitting false Forms I-129 and supporting documents to the USCIS," according to the indictment.
"Among other things, the defendants and their co­-conspirators obtained fake dance certificates and arranged for those aliens to be photographed in Armenian dance costumes to make it appear as though they were traditional Armenian musicians, singers and performers, when in fact, as the defendants then and there well knew and believed, they were not," the indictment states.
Boyadjian, 47, of Rego Park, was arraigned Wednesday before U.S. Magistrate Judge James Orenstein. The government says one of her co-defendants, 30-year-old Hrachya Atoyan, is scheduled to make an initial appearance for removal proceedings Thursday in the Central District of California.
Atoyan has been living in Glendale, California, after overstaying a P-3 visa that Boyadjian's BAMA foundation procured for him in 2013.
Final co-defendant Diana Grigoryan came to the United States in 2013 on a P-3 visa procured by BAMA as well.
The indictment says 41-year-old Grigoryan currently resides in Armenia, a country of 4 million bordering, among others, Georgia and Turkey. There is no indication that she is in U.S. custody.
In addition to dressing up the aliens in traditional dance costumes, the indictment says Boyadjian and her co-defendants coached the applicants "about how to falsely answer questions during P-3 visa interviews and provided the aliens with false documents to use during their P-3 visa interviews."
Charges against the trio include money laundering, aggravated identity theft and visa fraud.
Boyadjian pleaded not guilty and was released on $150,000 bail.
"The defendants will now face the music for their alleged crimes," U.S. Attorney General Richard P. Donoghue, who was sworn in in January, said in a statement.
The Big Apple Music Awards Foundation did not return an email for comment Thursday afternoon.
Subscribe to Closing Arguments
Sign up for new weekly newsletter Closing Arguments to get the latest about ongoing trials, major litigation and hot cases and rulings in courthouses around the U.S. and the world.