MANHATTAN (CN) – Tipping off the first federal trial of the NCAA pay-to-play corruption scandal, a prosecutor focused his opening statement Tuesday on money changing hands between universities and major sportswear companies to groom young hoopsters.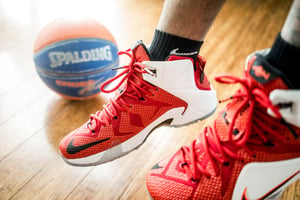 Laying out the government's case in U.S. District Judge Lewis Kaplan's packed courtroom this morning, Assistant U.S. Attorney Eli Mark says the evidence will bear out the three counts of wire fraud and conspiracy facing former sports business manager Christian Dawkins, former amateur league coach Merl Code and former Adidas marketing executive James Gatto.
"This is what corruption in college basketball looks like," Mark said.
Prosecutors contend that greed is what motivated the trio of defendants to facilitate payments from Adidas-sponsored schools to the players' families through fake invoices, secret second phones and cash handoffs.
"They wanted to profit off of the young player's talent," Mark said.
One such player highlighted by Mark was Michigan basketball player Brian Bowen Jr. The government says Gatto got Bowen signed through a $100,000 deal with the University of Louisville, an Adidas-sponsored sport program.
The payments were a "blatant and brazen violation of NCAA rules" that dictate "you can't pay to play," Mark implored to the jurors.
Mark said in his openings that the government will show how Adidas could "paper over" the cash payments to families through approved-invoices made out to Adidas youth teams that could be wired to a bag man for handoffs.
Bowen's father, who pleaded guilty after accepting $20,000 in cash as part of a $100,000 arrangement with Adidas to attend Louisville, is one of three cooperating witness slated to take the stand in support of the government's case.
The other two men are said to have intermediaries for multiple cash handoffs: one worked as a financial adviser for Dawkins, the other worked as a consultant for Adidas.
Mark said the three defendants were seeking an edge "to win the shoe wars" for Adidas against the other sportswear competitors Nike and Under Armour.
In addition to the University of Louisville, the pay-to-play schemes implicate University of Kansas, University of Miami, and North Carolina State University.
During jury selection Monday meanwhile the parties hinted a number of schools whose names might come up. These schools are Arizona, Creighton, DePaul, LSU, Oklahoma State, Oregon, Southern California and Texas.
Gatto, the Adidas marketing executive, is represented by Michael Schachter and Casey Donnelly of Willkie Farr & Gallagher.
During her roughly one-hour opening argument, Donnelly admitted that Gatto broken NCAA rules but contested the criminal fraud charges. "The NCAA is not the U.S. Congress," Donnelly told jurors along with a Power Point slide reinforcing her message.
"It's like this after-school soccer league if that soccer league brought in a billion dollars a year," Donnelly added.
Donnelly characterized the NCAA to jurors as a billion-dollar industry run by "those bureaucrats who wrote the rulebook," while maintaining that her client, mostly referred to on a first name basis as Jim, was "just a guy doing his job."
"Jim and the universities were aligned," Donnelly said of the relationship between her client and the colleges he stands accused of defrauding.
"He believes he's helping the universities," Donnelly said. "Universities desperately want star players."
Representing defendant Dawkins, attorney Steve Haney characterized his client as "a basketball junkie" who couldn't play the sport himself despite a family legacy.
A community college dropout with no formal credentials, Dawkins nevertheless showed a prodigious talent at scouting players from the age of 12.
Haney also calling the prosecution of his young, black client unfair, saying Dawkins merely engaged in practices that are widespread in the sports-business world.
Before founding his own firm, Haney spent decades in Michigan as a former prosecutor and assistant attorney general. He said one of government's cooperating witnesses, Brian Bowen Sr., was a family friend of Dawkins from the rough-edged Michigan town Saganaw, who "cut a deal to testify against the kid who he has been mooching off since he was teenager."
The lawyer described how Dawkins launched his own sports-management brand LOYD ("Live Out Your Dreams") at age 19, and worked as a runner for high-profile NBA agent Andy Miller and his agency, ASM Sports, between 2015 and 2017.
While lacking even "the most basic educational requirements to be an agent," Dawkins helped Miller land 10 players who were later drafted by NBA teams, Haney said.
Describing Dawkins' time with the top-tier professional agency, Haney said "runners like Christian Dawkins were relationship guys," employed to take care of the families and provide them with financial resources.
"Taking care of the families meant paying them … paying them with other peoples' money," Haney said. "Violating the NCAA rules … was what the colleges wanted. It's what they sought and needed."
Tuesday's opening statements were followed by FBI expert testimony regarding text message evidence.
Follow @jruss_jruss
Subscribe to Closing Arguments
Sign up for new weekly newsletter Closing Arguments to get the latest about ongoing trials, major litigation and hot cases and rulings in courthouses around the U.S. and the world.