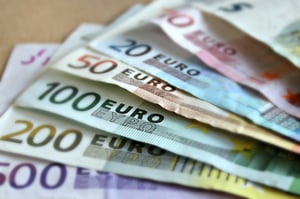 (CN) – After years of investigation – and a $1.5 billion settlement by four other banks in 2013 – the European Commission said Wednesday it will fine JPMorgan Chase and two other banks nearly $522 million for colluding to manipulate prices on the EU futures market.
Regulators discovered the violation of EU antitrust rules as part of a massive ongoing probe into banking-industry practices after the worldwide economic collapse. The commission carried out unannounced inspections of several banks in 2011 to determine whether they had colluded to fix the European Interbank Offered Rate (Euribor) benchmark interest rate.
Eight international banks were eventually dealt fines totaling $2.34 billion, with Germany-based Deutsche Bank, Barclay's, Royal Bank of Scotland and France's Societe Generale receiving reduced fines of $1.5 billion when they agreed to settle the commission's claims.
JPMorgan Chase, London-based HSBC and France's Credit Agricole refused to settle, even after the commission determined they also operated a cartel that "distorted the normal course of pricing components for euro interest rate derivatives."
After giving the banks the opportunity to defend themselves, the commission settled on a collective fine of just under $522 million. JPMorgan Chase owes the bulk – nearly $363 million – while Credit Agricole will pay about $123 million and HSBC owes just over $36 million.
Competition commission Margrethe Vestager said the decision – which is final – sends "a clear message" that banks have to follow EU regulations, just like any other company.
"This decision marks the end of several investigations the commission carried out into cartels set up by major international banks to manipulate the trading of derivatives. At least, I really hope it does," Vestager said in a statement. "Over the past three years the commission has taken six decisions on cartels imposing fines of just above 2 billion euros. In addition to this case, we also sanctioned cartels concerning derivatives linked to the Japanese yen and the Swiss franc."
She also noted the EU has also tightened banking regulations over the last year, making market abuse and insider trading a crime punishable by sanctions lasting from two to four years.
Subscribe to Closing Arguments
Sign up for new weekly newsletter Closing Arguments to get the latest about ongoing trials, major litigation and hot cases and rulings in courthouses around the U.S. and the world.