MADISON, Wis. (CN) – An Ohio dairy company filed an appeal with the Seventh Circuit on Monday, asking it to review a federal judge's dismissal of its challenge to a Wisconsin law requiring all butter for sale to be graded by the U.S. Agriculture Department or a state-licensed butter grader.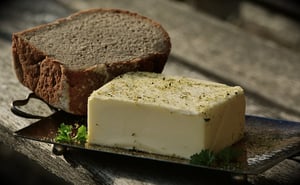 Last month, U.S. District Judge James Peterson ruled in favor of Wisconsin officials and rejected Minerva Dairy's claims that the state law amounts to a ban on artisanal butter and an unconstitutional restriction on interstate commerce.
"Because the statute is rationally related to Wisconsin's legitimate interest in helping its citizens make informed butter purchases, the court will grant summary judgment to the state and dismiss Minerva Dairy's claims," Peterson wrote in his Feb. 5 opinion.
Minerva and its president Adam Mueller filed the lawsuit in Madison federal court last year against Wisconsin Attorney General Brad Schimel and Ben Brancel and Peter J. Haase of the Wisconsin Department of Agriculture's Trade and Consumer Protection division.
Represented by attorneys from the Pacific Legal Foundation in Sacramento, Calif., the Ohio dairy maker argues the 40-year-old law at issue, Wis. Stat. § 97.176, is cost-prohibitive and only started being enforced last year.
"Wisconsin adopted a law that even the government's own experts fail to understand. A butter grade provides the consumer with essentially no information, is required by no other state in the nation, but significantly hampers an artisanal butter maker's ability to sell its product," Pacific Legal said in response to last month's ruling. "The court disposed of our Fourteenth Amendment claims by stating that the law is a 'rational' way of protecting consumers."
Judge Peterson had ruled that Wisconsin "may require grade labels on retail butter packages so that consumers could purchase butter with confidence in its quality."
"Wisconsin has a legitimate interest in ensuring that its citizens aren't duped into buying 'mealy,' 'musty,' or 'scorched' butter (to name a few of the characteristics included in the grading system). The state could believe that required butter grading would result in better informed butter consumers," the judge wrote.
On Monday, Minerva and Mueller appealed Peterson's ruling to the Chicago-based Seventh Circuit.
Pacific Legal lead attorney Joshua Thompson expressed confidence about the appeal in an emailed statement.
"Throughout the litigation, Wisconsin was unable to demonstrate how the butter grading requirement protects Wisconsin consumers.  Indeed, even the government's own experts were unaware of the how the butter grading law worked, how it helped Wisconsin consumers, or even what butter grades mean," Thompson said.
He added, "We are confident that on appeal to the Seventh Circuit, the Court will agree that this law unconstitutionally frustrates interstate commerce – as Wisconsin is the only state in the nation with such a ridiculous law – and how it violates our client's right to earn a living under the Due Process and Equal Protection Clauses of the Fourteenth Amendment."
Attorneys for state officials did not immediately respond Tuesday to an email request for comment.
Follow @EmilyZantowNews
Subscribe to Closing Arguments
Sign up for new weekly newsletter Closing Arguments to get the latest about ongoing trials, major litigation and hot cases and rulings in courthouses around the U.S. and the world.