WASHINGTON (CN) — Reaching a heftier sentence than one sought by prosecutors for the third time for Jan. 6 defendants, a federal judge ordered two cousins on Wednesday to 45 days behind bars.
U.S. District Judge Tanya Chutkan is the only judge who has upped the government's sentencing recommendations for Capitol rioters — last week giving Matthew Mazzocco prison time despite the government's recommendation of home confinement, and on Tuesday giving Dona Sue Bissey 14 days in prison, even though prosecutors requested only probation.
Robert Bauer and Edward Hemenway are the 16th and 17th Capitol rioters to be sentenced, and Justice Department attorney Elizabeth Kelly had recommended that they receive 30 days in prison.
"He claims that he was swept up in the crowd — he was not," Kelly said, speaking of Bauer, who is a Kentucky resident. "He had opportunities to leave the Capitol, but he chose not to leave."
Bauer had attended Trump's "Stop the Steal" rally with Hemenway and his own wife, the latter of whom refused to go into the Capitol building and instead went back to their hotel room. Once in the Capitol, Bauer and Hemenway, of Virginia, wandered around for about 17 minutes and took selfies.
Hemenway would later tell the FBI that a Capitol police officer had greeted them with a hug and a handshake and told them, "It's your house now."
Once outside, the men took celebratory photos on a U.S. military vehicle, and Bauer later posted one of the photos on Facebook — claiming that after he learned about the gravity of what happened in the Capitol building, he wanted the FBI to find him.
"Are you seriously suggesting that Mr. Bauer posting pictures of himself celebrating triumphantly on top of a government vehicle was a 'come get me' to the FBI? What about giving them a call?" Chutkan asked defense attorney Meredith Ralls. "I've got a lot of these cases, and a lot of people posted pictures of Facebook, and they're not all crying to be reprehended."
Bauer told the judge that he should have called the FBI to turn himself in instead, and it was another bad decision that he did not do so.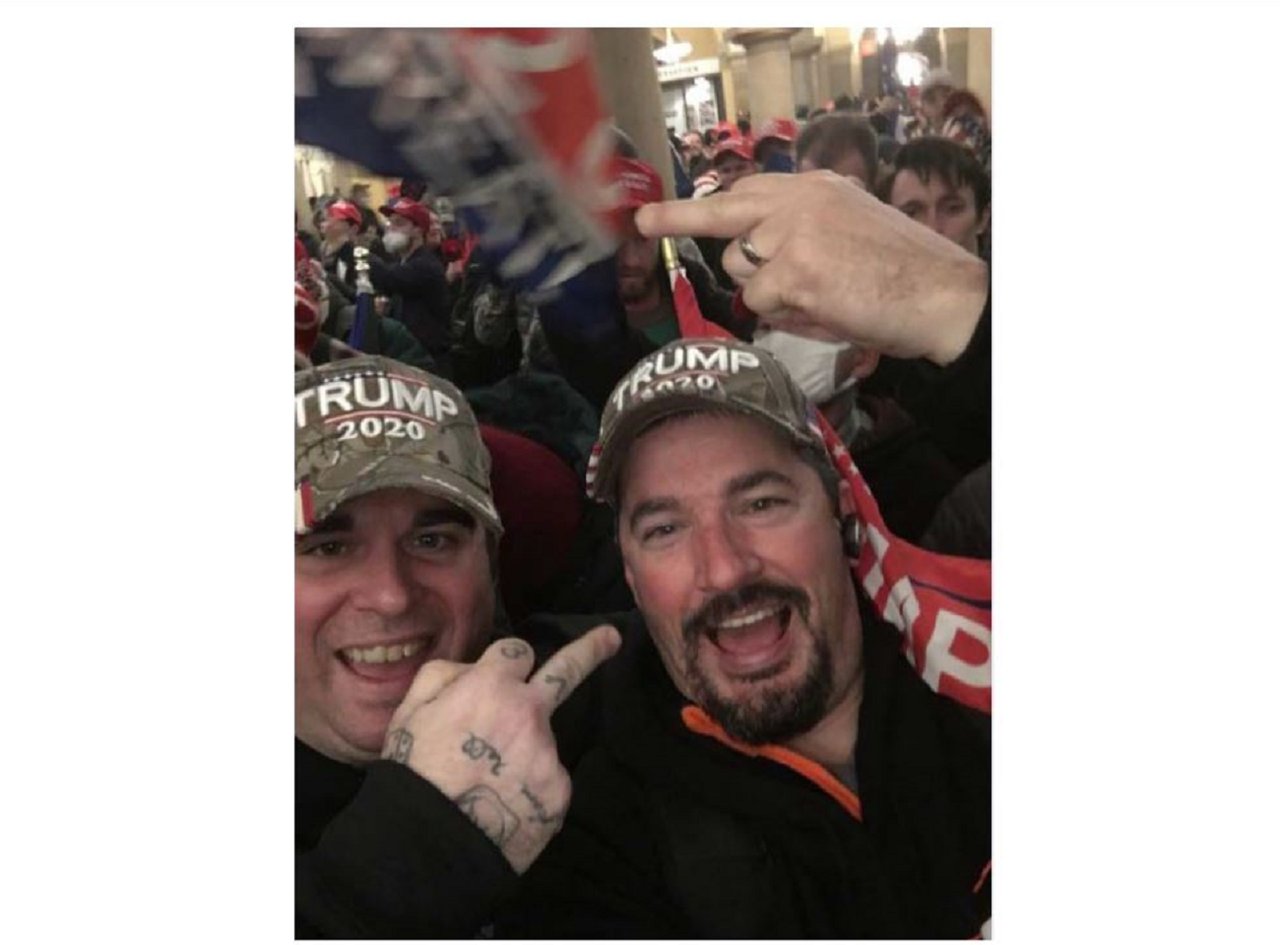 "There are really no words to describe how categorically wrong I was," Bauer told Chutkan. "But I was contacted the day after I got home and I was as forthcoming as I could be. … I wish I hadn't been a part of it. I wish it hadn't happened at all."
Bauer was fired from his job of nine years, and says it has been difficult for him to find another one with all the media attention he has been getting.
"We don't deserve the guillotine and my cousin has already received that," Hemenway said.
Hemenway told Chutkan that though he and his cousin have struggled in the past — Bauer has had multiple prior convictions for the possession of meth, and Hemenway spent five years in prison for sexual battery — the two men have tried to turn their lives around. Bauer earned an associate's degree in robotics and engineering, while Hemenway started his own business. Both have families.
"The sad part is we weren't even really 100% Trump supporters. We weren't really that into the guy. We thought we would go to the rally on the way to the airport," Hemenway said. "I certainly did not plan on being part of a mob. … I am very disappointed in myself."
Chutkan noted that, though it was entirely possible the two men didn't see everything that was going on at the Capitol and didn't understand the violence that occurred until afterward, they still celebrated and gloated while in the Capitol. Chutkan also noted that she received numerous letters on their behalf and gave the two men credit for taking responsibility early and cooperating early with the FBI.
Both Bauer and Hemenway pleaded guilty to a charge of unlawful picketing.
"I hear both of you in regards to the consequences you've suffered so far," Chutkan said.
"It's regrettable that the true victims of this case are the police officers and staffers inside the Capitol. Officers have committed suicide, some are suffering from post traumatic stress disorder. For some it was the worst day of their lives. The consequences are far reaching."
Read the Top 8
Sign up for the Top 8, a roundup of the day's top stories delivered directly to your inbox Monday through Friday.