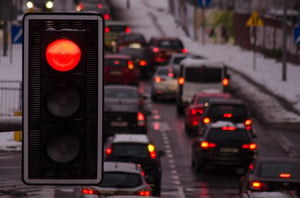 CHICAGO (CN) – A resident of the Chicago suburbs filed a class action claiming the city of Markham is collecting fines for red-light camera violations while skirting state law.
A class-action lawsuit led by Karen M. Murphy of nearby Orland Park, Ill., seeks to stop Markham's allegedly "unlawful collection of money from vehicle owners through its Photo Enforcement Program."
According to the complaint filed Tuesday in Cook County Circuit Court by Chicago attorney Clinton A. Krislov, Markham "has been issuing red light violation notices and collecting fines and late fees despite its failure to comply with two mandatory provisions of the state law governing red light cameras."
Markham does not publish the location of its cameras, which record drivers going through red lights, on its website. Murphy claims the city also does not provide a statistical analysis on the safety impact of each camera, another requirement of Illinois law.
"There is no indication that defendant has conducted the statistical analysis as required by statute. No such study appears anywhere on the city of Markham website," the complaint alleges.
Markham officials did not immediately respond Wednesday to a request for comment on the lawsuit.
Clicking the "red light enforcement" link on the city's website takes visitors to a 404 error page.
Murphy's attorney, Krislov, said in a phone interview that "red-light cameras have proven to be very lucrative for municipalities."
"The fact is, if they're going to use them as revenue generators, they should go through the hoops," he added. "We're merely saying if you're going to do it, follow the law."
Murphy is suing Markham for unjust enrichment, asking the court to void red-light traffic violations and order a return of the $100 fines that drivers have paid.
She seeks to represent a class of anyone who has been issued red-light tickets from Markham.
Her complaint was electronically filed on Tuesday, but was not made available until Wednesday.
Subscribe to Closing Arguments
Sign up for new weekly newsletter Closing Arguments to get the latest about ongoing trials, major litigation and hot cases and rulings in courthouses around the U.S. and the world.