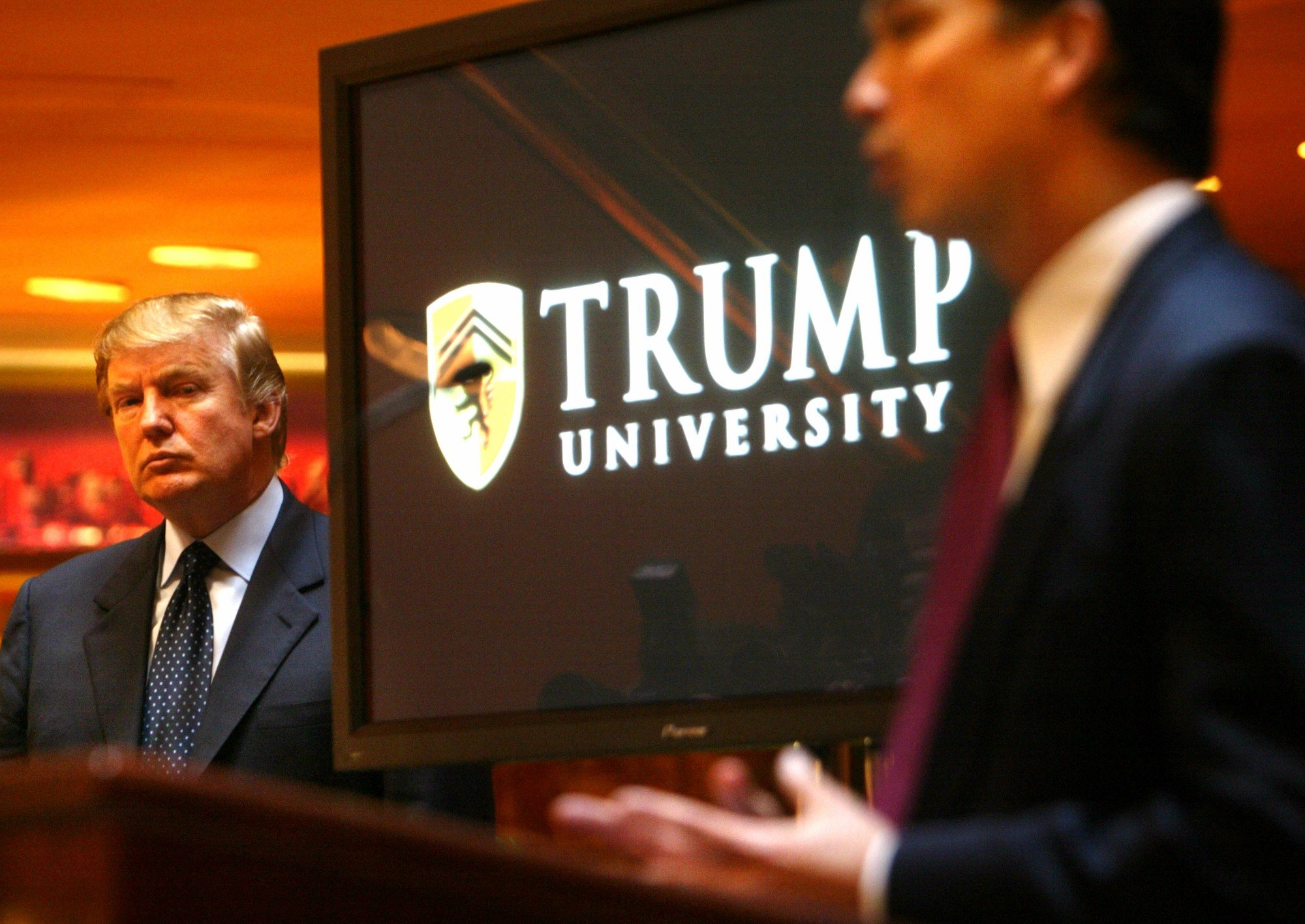 SAN DIEGO (CN) - The main lesson taught at Trump University "is how to spend more money buying more Trump seminars," a class action claims in Federal Court. Tarla Makaeff says she spent nearly $60,000 on seminars at the school founded and chaired by Donald Trump, but that the "'1-year apprenticeship'" she was promised turned out to be "just a 3-day seminar" which "consisted of no practical insights and no mentorship, but rather excursions to the Home Depot and 'mentors' who either recommend real estate deals that they stood to benefit from financially, or quickly disappeared and failed to return calls."
Makaeff, the named plaintiff, says Trump U advertises itself as a "complete real estate education," a chance to "Learn from the Master ... the next best thing to being his Apprentice," with "free" introductory courses.
Trump University claims to be "'driven by the mission to train, educate and mentor entrepreneurs on achieving financial independence through real estate investing." But it's actually "anything but," Makaeff says, citing her "excursions to the Home Depot".
Makaeff says she paid $1,495 for the "free" 3-day seminar, which was little more than an infomercial. At the "seminar," she says, Trump University representatives induced her and others to shell out $35,000 for the Trump University "Gold Program."
Makaeff says Trump's reps told her to raise her credit-card limits so she could "enter into 'real estate transactions.'"
Makaeff says she signed up for the Gold Program after Trump University speaker Tiffany Brinkman "guarantee(d)" her that her first real estate deal would earn her $35,000, "so she could immediately pay off her Trump University debt, leaving only profits for the future."
But Makaeff says she never made any money. The day she signed up for the Gold Program, she says, she was assigned two "mentors," who "would only speak to plaintiff for 2-3 minutes, offering no practical advice. After that, although they were supposed to provide 'mentorship' to plaintiff for a full year, they mostly disappeared."
When she complained, Makaeff says, "power team" mentor Tad Lignell offered to help her, but "then engaged in misappropriate conduct and misadvised her regarding a property in Las Vegas in which he had a personal financial interest."
Makaeff says she pulled out of that deal when she discovered that Lignell's real estate agent had "fraudulently and illegally altered the real estate documents she had previously signed at the escrow office." (18)
Makaeff demands punitive class damages for breach of contract, fraud, negligent misrepresentation and bad faith, and refunds on the money they paid to Trump University.
Trump University and Does 1-50 are the only named defendants. Donald Trump is not named as a defendant, though the 31-page complaint describes him as its "founder and chairman."
"Trump University is more like an infomercial, selling nonaccredited products, such as sales workshops, luring customers in with the name and reputation of its founder and chairman, billionaire land mogul Donald J. Trump," the complaint states. The putative class's lead counsel is Amber Eck with Zeldes and Haeggquist of San Diego.
Follow @MariaDinzeo
Subscribe to Closing Arguments
Sign up for new weekly newsletter Closing Arguments to get the latest about ongoing trials, major litigation and hot cases and rulings in courthouses around the U.S. and the world.