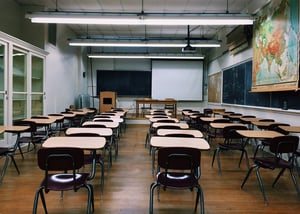 CAMDEN, N.J. (CN) – New Jersey prosecutors could be liable, a federal judge ruled, for bringing charges against a high school vice principal who failed to report a student-teacher sexual liaison.
Jernee Kollock-Mann was one of five people charged in 2012 after a sex scandal rocked Triton Regional High School where she had been vice-principal.
Though the other four defendants – three male teachers and the school principal – all pleaded guilty, Camden County prosecutors agreed to drop the charges against Kollock-Mann in exchange for her 2013 resignation from the Black Horse Pike Regional School District.
Kollock-Mann brought a suit two years later for malicious prosecution. Saying that the state Division of Youth and Family Services found that he "had done nothing wrong whatsoever," Kollock-Mann blamed her failure to report on the principal.
Local news reports say prosecutors had initially accused Kollock-Mann of failing to alert police about a student-teacher relationship that she had clearly known about because her handwritten corrections appeared on the student's statement.
Kollock-Mann contends in a third-amended complaint meanwhile that she had "asked her principal/supervisor whether she should contact DYFS and the principal explicitly told plaintiff not to contact DYFS. The principal was leading the school's investigation."
Though the prosecutors moved to dismiss, U.S. District Judge Noel Hillman declined to do so Tuesday.
Hillman conceded that the prosecutors may yet demonstrate probable cause based on Kollock-Mann's own pleading about doing what the principal told her.
But "the existence of probable cause as to one crime charged does not 'insulate [defendants] from liability' for malicious prosecution as to the other charged crimes," Hillman added.
The ruling calls it premature at this early stage of the case to determine if Kollock-Mann's malicious prosecution claim under Section 1983 fails "simply because the third amended complaint fails to plead facts plausibly supporting a conclusion that defendants lacked probable cause as to the less serious charge of failing to report child abuse."
A spokeswoman for the Camden County Prosecutor's Office declined to comment on an ongoing investigation.
The sex scandal at Triton High involved three male teachers accused of having improper relationships with female students between November 2011 and June 2012.
Jeff Logandro and Daniel Michielli, both of Blackwood, pleaded to conspiring to commit official misconduct. Nick Martinelli, of Cherry Hill, pleaded guilty to hindering apprehension. Logandro and Michielli, who were implicated in relationships with underage girls, each served 30 days of home confinement.
Martinelli's relationship was with an 18-year-old.
Former Triton principal Catherine DePaul, of Woodbury, received one year's probation and was disqualified from public employment after pleading guilty to failure to report.
Subscribe to Closing Arguments
Sign up for new weekly newsletter Closing Arguments to get the latest about ongoing trials, major litigation and hot cases and rulings in courthouses around the U.S. and the world.