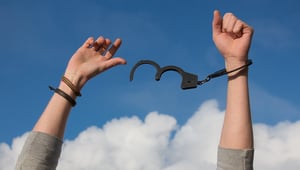 LOS ANGELES (CN) – Weathering another round of criticism from opponents, a bill to fundamentally change California's pretrial money bail and detention system cleared its second-to-last hurdle in the state Senate on Tuesday.
Senate Bill 10, the California Bail Reform Act, would replace the current money bail system by empowering local courts to determine who should be released ahead of trial or sentencing.
Individuals will also no longer have to pay for electronic monitoring or anything else related to the conditions of their release under the bill.
State Sen. Bob Hertzberg, D-Van Nuys, urged his colleagues to support the bill he introduced along with Assemblyman Rob Bonta, D-Alameda, nearly two years ago, to transform what he described Tuesday as a "broken system" that can't be fixed.
State Sen. Hannah-Beth Jackson, D-Santa Barbara, said the bail system has been an "abject failure" and that the bill will ensure "justice for all, not for the rich, but for all."
Jackson said that arguments by opponents who said the bill was rushed through the Legislature are "ineffective and inaccurate."
Hertzberg unveiled amendments to the bill this past week that caused several prominent supporters, including the American Civil Liberties Union and Human Rights Watch, to withdraw support for the bill.
In a statement Monday, the executive directors of the American Civil Liberties Union of California said they opposed the bill because it compromises their goals of protecting due process and attaining racial justice.
"As much as we would welcome an end to the predatory lending practices of the for-profit bail industry, SB 10 cannot promise a system with a substantial reduction in pretrial detention," the statement said. "Neither can SB 10 provide sufficient due process nor adequately protect against racial biases and disparities that permeate our justice system."
Hertzberg's amendments added risk-assessment tools overseen by the courts and stripped pretrial release from individuals who are deemed to be a high risk to public safety.
The risk-assessment tool weighs factors in pretrial detainees' background, including the current charges, prior convictions and a history of failure to appear in court, and then assigns the defendant a risk level based on those factors.
Hertzberg and other bill proponents said any concerns about the bill can be addressed through future amendments.
"The fundamental change is that we're going to be treating people as people," Hertzberg said. "If you have a [criminal] background we're gonna look at it, we're gonna put judge's eyes on the case."
Echoing concerns from their colleagues in the Assembly, opponents of Senate Bill 10 said on the Senate floor that the bill might eliminate the bail bond industry, endanger the lives of residents and give too much power to judges to decide who should remain incarcerated before trial or sentencing.
But state Sen. Bob Wieckowski, D-Fremont, said legislators should be less concerned about destroying the bail bond industry and more concerned about the impact that money bail has had on low-income residents whose lives were negatively impacted by large bail fees.
"We're worried about destroying an industry," Wieckowski said. "We've destroyed families."
State Sen. Jeff Stone, R-Temecula, said he agrees the bail system is "broken," but lawmakers should instead consider reforming rather than eliminating.
"Don't throw the baby out with the bath water," Stone said.
He said opponents of the bill are concerned that leaving pretrial risk assessment to judges could lead to "perpetual" detention and "mass incarceration."
State Sen. Holly Mitchell, D-Los Angeles, acknowledged the fear among progressive groups that the risk assessment tools could lead to "worse outcomes for historically marginalized communities."
Mitchell said her support for the bill was buoyed by provisions that called for an independent analysis of the bill in 2023 to evaluate any remaining racial biases in the pretrial detention system.
SB 10 enjoyed support from prominent state lawmakers, law enforcement groups, the Los Angeles County Board of Supervisors and California Supreme Court Chief Justice Tani Cantil-Sakauye.
In a statement Tuesday, the Judicial Council's administrative director Martin Hoshino applauded the bill.
"We are hopeful that the governor signs this bill into law and look forward to working with the Legislature and governor's administration to implement a system that protects the public and the due process rights of all Californians."
Following the Assembly's 41-27 vote in favor of the bill, the state Senate voted 26-12 to send it to Gov. Jerry Brown's desk. Brown has previously signaled he would sign bail reform legislation.
Subscribe to Closing Arguments
Sign up for new weekly newsletter Closing Arguments to get the latest about ongoing trials, major litigation and hot cases and rulings in courthouses around the U.S. and the world.