WASHINGTON (CN) — Fulfilling a promise made on the campaign trail to lift a financial weight off America's middle class, President Joe Biden announced Wednesday that he plans to offer borrowers thousands of dollars in student loan forgiveness.
"Some will say it's too much, some will say it's too little," Biden said from the White House Wednesday. "But I believe it's responsible and fair."
The federal government will forgive up to $20,000 of student debt for low-income students who paid for college grants with help from a type of federal financial aid called a Pell Grant. In a call with reporters Wednesday, senior Biden administration officials clarified that debt forgiveness is only possible if a qualifying recipient is earning less than $125,000 per year on their own today, or less than $250,000 as part of a household.
Linsey Johnson, the president and CEO of the Consumer Bankers Association, acknowledged Wednesday that Biden's plan would help those in need but still had a bone to pick.
"This proposal still focuses on treating symptoms of the federal student debt crisis rather than the root cause: skyrocketing tuition costs and decades of unrestrained lending by the federal government," the leader of the member-driven trade association tweeted.
Biden noted in his remarks this afternoon that Pell Grants once covered 80% of the cost of going to a public four-year college, but now the aid covers roughly 32%.
"Education is a ticket to a better life … but over time that tickets become too expensive for too many of us and an entire generation is now saddled with unsustainable debt," he said.
Borrowers whose student aid did not take the form of a Pell Grant are subject to the same income requirements but only eligible for up to $10,000 in relief.
"If all borrowers claim the relief that they are entitled to, 43 million federal student loan borrowers would benefit," a senior White House official said Wednesday. "And, of those, 20 million will have their debt completely canceled."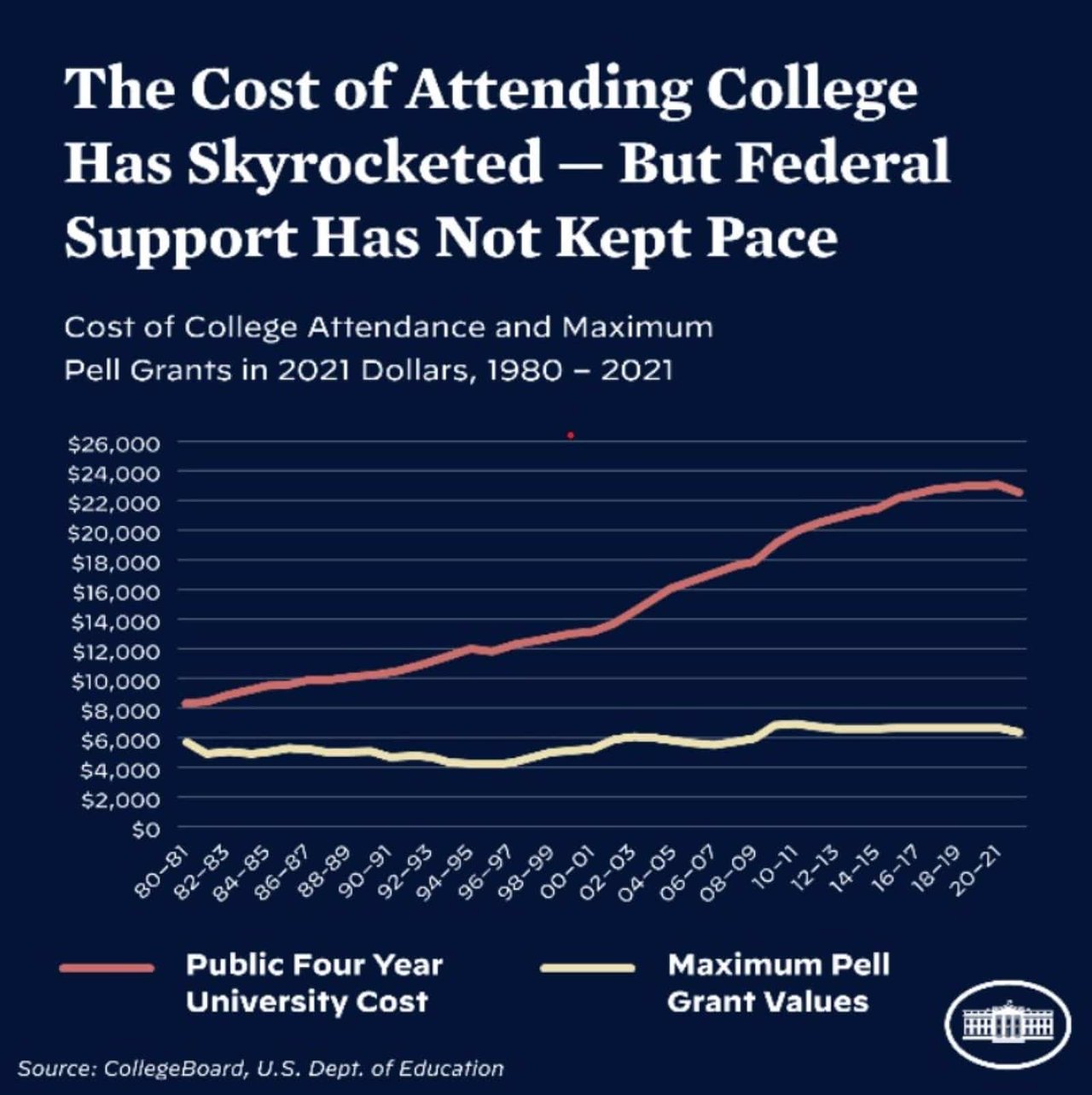 Biden estimated that the plan will be responsible for nearly 45% of borrowers having their student debt fully canceled.
"That's 20 million people who can start getting on with their lives," he said. "People can start finally crawl out from under that mountain of debt. To get on top of their rent utilities. To finally think about buying a home or starting a family or starting a business. And by the way, when this happens, the whole economy is better off."
According to the White House, nearly 90% of relief dollars will go to those earning less than $75,000 a year, and no one in the top 5% of the U.S. income bracket will get a single dollar of relief.
The plan aims to target borrowers with the highest economic need in hopes of narrowing the racial wealth gap.
A White House senior official said Wednesday that the plan is meant to provide targeted help to Black students.
"That's important because Black students are more likely to have to borrow for school, more likely to take out larger loans and more likely to receive Pell Grants, even before applying the additional $10,000 for Pell Grant recipients," the official explained. "A typical Black borrower will see their balance cut nearly in half, and more than 1 in 4 Black borrowers will see their balance forgiven.
"On top of that," the official continued, "adding relief for Pell Grant recipients will go a long way to promoting equity because Black borrowers are twice as likely to be Pell Grant recipients as their white peers."
At the Student Debt Crisis Center, an advocacy group pushing for better policy around student loans, Biden's announcement Wednesday spurred applause and acknowledgement of the long road ahead.
"While this announcement is a major win for many, it is important to stress that $10,000 will leave many others still crushed by debt and important details will determine who has access to much-needed relief," Natalia Abrams, president and founder of Student Debt Crisis Center, said in a statement. 
NAACP President Derrick Johnson also emphasized Wednesday there is more to be done to address the racial wealth gap.
"We encourage the Biden administration to grant qualifying borrowers the promised relief quickly, without the red tape and bureaucracy that prevented millions from receiving public service loan forgiveness," he said.
The White House notes that relief eligibility for adults in school today will be based on their parents' income, not their own. 
"What my administration is going to do is provide more breathing room for people so they have less burdened by student debt. And quite frankly to fix the system itself, which, [when] we came in, was broken," Biden emphasized Wednesday.
Another aspect of Biden's three-part plan proposes a payment cap, 5% of a borrower's monthly income, for those with undergraduate loans.
"And after you pay your loan for 20 years, your obligation will be fulfilled if it hadn't already been fulfilled, meaning you won't have to pay any more. Period," Biden said, adding that his administration will also revise the Public Service Loan Forgiveness Program.
More details on the plan will be available by the Department of Education in the coming weeks.
Alongside Wednesday's announcement, the president also extended the freeze on student loan payments through December 31 — what he said is the last time. The moratorium began under the Trump administration, shortly after the outbreak of the Covid-19 pandemic in 2020, but Biden has continually extended the moratorium since taking office. The current pause was set to expire next Wednesday.
In requiring 45 million borrowers to restart student loan payments at the same time that targeted debt relief becomes available, senior administration officials suggested Wednesday that the government is creating countering economic shifts that will largely offset each other.
Biden's plan to forgive debt is expected to face legal challenges, with lawsuits challenging whether Congress has given the president the explicit authority to cancel debt.
Representative Kevin Brady of Texas, the top Republican on the House Ways and Means Committee, told Fox News Wednesday that he didn't believe the plan was legal.
"The president is trying to use taxpayers as a personal campaign slush fund," he said after the announcement. "It's wrong."
Republicans have called the student loan forgiveness a "handout to the rich," arguing that it foists the wealthy's higher education costs onto lower-income taxpayers and those who have already paid off their student loans without forgiveness. Some from the party hope the move will backfire and turn working-class voters without college degrees against Democrats in November.
Policy surrounding student loans has been contentious since the 2016 election when Senator Bernie Sanders all but cornered the youth vote with his presidential campaign promise to unilaterally cancel all outstanding federal and private student debt.
Four years later, after more progressive 2020 Democratic candidates like Sanders and fellow Senator Elizabeth Warren proposed canceling $50,000 or more per borrower, Biden said he would consider canceling up to $10,000 of federal loan debt per student.
With 2022 midterm elections on the horizon in November, congressional Democrats focused on young voters, and support in the Black community in particular, are still advocating for broad, widespread relief.
Senate Majority Leader Chuck Schumer previously called for Biden to sign an executive order forgiving $50,000 per federal borrower. The New York Democrat nevertheless applauded Biden's move Wednesday, saying that it was the single most effective action the president could take on his own to help working families.
"The positive impacts of this move will be felt by families across the country," Schumer and Senator Warren said in a joint statement.
Follow @@lexandrajones
Read the Top 8
Sign up for the Top 8, a roundup of the day's top stories delivered directly to your inbox Monday through Friday.