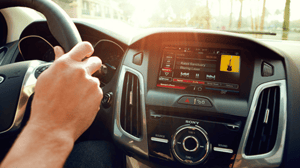 SAN FRANCISCO (CN) - A $300 million class action claiming Ford knowingly sold vehicles with defective and unsafe touch screen systems must go to trial, a federal judge ruled Wednesday.
U.S. District Judge Edward Chen rejected the bulk of Ford's summary judgment motion Wednesday, finding the plaintiffs offered adequate evidence to convince a jury that Ford sold vehicles with faulty My Ford Touch and My Lincoln Touch systems from 2010 to 2013.
"Plaintiffs have introduced sufficient proof from which a reasonable jury could conclude that the [My Ford Touch] defect caused, inter alia, persistent distractions; failed intermittently and unexpectedly while performing key functions such as navigation assistance or rear-view cameras; and impaired operability by undermining use of the rear-view cameras, climate control systems, and navigation systems, often requiring drivers to pull-over to reboot the systems," Chen wrote in his 58-page ruling.
Plaintiffs say the touch-screen software, made by Microsoft, often freezes, endangering drivers' safety by leaving them unable to defrost windows, operate the rearview camera, or dial 911.
In September 2016, Chen certified classes of consumers in California, Colorado, Massachusetts, New Jersey, North Carolina, Ohio, Texas, Virginia and Washington state who bought a Ford or Lincoln equipped with the touch screens before Aug. 9, 2013.
He later decertified some claims in California, Ohio, Texas and Virginia, resulting in 12 remaining class action claims in eight of the nine states, excluding Texas.
On Wednesday, Chen ruled in Ford's favor on implied warranty claims in California and product liability claims in Colorado. But he rejected the rest of Ford's summary judgment motion, setting the stage for a jury trial slated to start on May 11.
Class attorney Steve Berman, of Hagens Berman Sobol Shapiro in Seattle, said the plaintiffs have obtained "powerful" evidence, which he expects will persuade a jury to award them the $300 to $400 million in damages they seek.
The evidence includes documents in which Ford refers to updates aimed at fixing its faulty software as "lipstick on a pig" and "polished turd."
"It's rare that you get documents that frank about the company and their product," Berman said. "Why Ford feels powerful about trying the case, it's a mystery to me, but let's have at it."
The plaintiffs also uncovered a photo of former Ford CEO Mark Fields smashing the My Ford Touch system in his own vehicle out of frustration, according to Berman.
In his ruling Wednesday, Chen also refused to exclude expert testimony concluding that the touch screen systems, which cost $625 without navigation and $1,364 with navigation, lost all value to consumers because of the defects.
Ford attorney Randall Edwards, of O'Melveny & Myers in San Francisco, did not immediately return a phone call and email seeking comment Wednesday afternoon.
Follow @NicholasIovino
Subscribe to Closing Arguments
Sign up for new weekly newsletter Closing Arguments to get the latest about ongoing trials, major litigation and hot cases and rulings in courthouses around the U.S. and the world.